Stratton Mountain
Ski Resort Guide
Stratton Mountain

,

United States
Rated: 3/5 (from 6 ratings)
Ski Area Highlights

| | |
| --- | --- |
| Recommended For | Beginners, Snowboarders, Snowfall and Apres-Ski! |
| Highest Lift | 1,160m |
| Resort Height | 610m |
| Nearest Airports | Albany and Bradley |
| Free Snow Reports by e-Mail | Sign Up Here |
Stratton Mountain
Owned by the Intra West Company (which owns Tremblant and Whistler in Canada amongst others) Stratton is the epitomy of full-service ski resorts, currently undergoing major further improvements. It installed the first high-speed six-seater detachable chair in 1995 the American Express. Stratton offers a profusion of fun-packed activities and events for everyone in the family including nordic skiing, ice skating, sleigh rides, Sports Center with pool ... Summit adventure center offers snowshoes, Snowblades, snowboards and telemark skis. Stratton's slopeside Village is lined with an eclectic mix of shops and restaurants that will entice and enchant you. Stratton is committed to superior snowmaking and grooming. Experience Stratton Unplugged, multifaceted mountain adventure parks for skiers and snowboarders of all ages and abilities. Features include terrain gardens, woods trails, carving parks, over 70 acres of glades, bump terrain, pocket playgrounds and Stratton's Top Ten Hits. Just a short drive away, scenic Manchester offers different kinds of attractions: from Armani and Ralph Lauren to Timberland and Brooks Brothers with over 70 fine designer outlets and an abundance of fine dining options.
Summary
The American ski resort of Stratton Mountain is at an altitude of 610m.
Stratton Mountain has direct access to 90 marked pistes, served by a total of 16 ski lifts.
The skiing is at relatively low altitude, so snow cover can be variable.
Snow and Weather
When will it snow in Stratton Mountain?
There is currently no significant snow in the 7-day forecast for Stratton Mountain.
See our long-range Snow Forecast for the latest update, or Join our Snow Mail Here
Snow this week
Snow Forecast by day for Stratton Mountain

| Tue | Wed | Thu | Fri | Sat | Sun | Mon |
| --- | --- | --- | --- | --- | --- | --- |
| | | | | | | |
| | | | | | | |
| | | | | | | |
| | | | | | | |
Ski Area Stats
Stratton Mountain Ski Area
Piste and Lift Stats
Pistes
Number of runs
90
Cross Country
Total Length
30km
Ski Lifts
Number of Lifts
16
Altitudes
Stratton Mountain Ski Area Heights
Lift Heights and Resort Altitude

| | |
| --- | --- |
| Highest Lift | 1,160m |
| Lowest Piste | 610m |
| Resort Altitude (Stratton Mountain) | 610m |
| Max Vertical | 550m |
Ratings & Suitability
Ratings for Stratton Mountain

| | |
| --- | --- |
| Expert Skiers | |
| Intermediate Skiers | |
| Beginners | |
| Snowboarding | |
| Snow | |
| Apres-Ski | |
Stratton Mountain Overview
Southern Vermont's highest peak, Stratton Mountain is a long established southern Vermont resort with a cosmopolitan atmosphere that's rarely found in New England. A good illustration of the fact is the selection of quality French champagne stocked in the resort's general store. The 40 year old ski centre had always been planned as a mountain community, again in contrast to most other New England ski hills, where the idea of adding a resort base tends to be a new one.
Purchased by Intrawest, famously owners of Canada's Whistler, Stratton is now enjoying a makeover, with millions of dollars spent on improveding snowmaking, fast high-capacity lifts, a reshaping of the resort base and new or refurbished lodging. The corporation bought Stratton in 1994 and greatly enhanced its central pedestrian mall, most famous for its under-cobble heating system that melts any snow which falls on it, although in truth it's the sophisticated architectural design and planning thought that really matters, even if that's not what you notice (the idea is you don't notice, just enjoy, after all).
The fact that snowboarding was born here a few decades ago may seem slightly incongruous with the smooth corporate image and designer stores of Stratton today, but knarly or not, Jake Burton was here in the early 80s, hiking up hill with his prototypes. So Stratton remains one of, if not the longest established 'boarders welcome' resorts, has an unrivalled range of pipes, terrain parks and all other amenities a 'boarder could dream of, and is home to the world's longest running annual open snowboarding championship.
Stratton is one of the easiest major New England resorts for New York City and Boston residents to reach, with large numbers arriving at the weekend. Its lack of international fame outside snowboarding circles is surprising compared to some other Vermont ski areas - this may well change in the next few years.
Skiing
Stratton's terrain extends to 90 trails with a healthy vertical served by high-speed six seater and gondola lifts - some of the most modern in Eastern North America. These replaced much slower, older lifts that remain the norm at many other ski centres in the region.
The skiing terrain is rich and varies from fast cruisers to traditional winding New England trails. Those who like their skiing bouncy will find trails that have terrain hits created along them for both skiers and 'boarders to enjoy as well as well-maintained mogul/bumps runs off the Sun Bowl chair. There are also the still fashionable 'glade runs' which became popular in North America in the late 1990s as a terrain variant and provide some of Stratton's toughest skiing. Those that love the corduroy are happy at Stratton too - the resort has won numerous awards for the quality of its piste grooming.
Intermediate level skiers have the whole mountain open to them and will enjoy carving big sweeping turns on the wide open Lift Line runs. Beginners have a Learning Park section and once the basics are mastered can ski top to bottom via West Meadow and lower Wanderer trails if those knees hold out. The resort has invested heavily in snow making in recent seasons, a total spend of $18 million dollars.
The Professional Ski Instructors of America has an education centre at Stratton Mountain and six Stratton ski Instructors are on the prestigious PSIA Education Team (Examiners).
Nordic skiers have their own Centre and 30km of trails to enjoy.
Over 50s can participate in The Stratton Trailblazers Ski Club which provides insider advice and regular events for members.
Stratton Mountain offers good sking, particularly, for Beginner skiers.
Snowboarding
Stratton markets itself as the home of snowboarding, as Jake Burton first demo'dhis original creations here, reportedly hiking up Suntanner under cover of darkness in the early 1980s - whilst such a practise is not encouraged by the resort, there has to be that 'salmon' instinct in every board to return to its roots at Stratton.
By 1983 Burton's boards met 'basic standards' and the resort agreed to allow 'boarders on to its slopes. The 'Home of Snowboarding' claim is slightly tenuous in the same way that the various claimant to the Home of Skiing can eternally dispute who really was the first, even the most recent 'First Indoor Snowdome' - built in the late 1980s, is argued between Australia and Belgium. However whilst some folk have been seen 'boarding' in the 1960's and earlier, the roots of the mass-market sport of the modern era can be fairly claimed by the resort.
In any case, and more important to most, what cannot be disputed is that Stratton is an excellent mountain for 'boarders; regarded by many as ... the heart of snowboarding, and listed in his world top 5 by three-time world halfpipe champion Terje Haakonsen.
Stratton is known worldwide for its championship halfpipe, scene of the venerated US Open Snowboard Championships, the world's longest running snowboard competition. Regularly groomed by state-of-the-art machines, the 380-foot (115m) halfpipe in the Suntanner Terrain Park is considered by Burton, an excellent example of a world-class pipe that the average rider can enjoy and advanced riders can use to train on a daily basis.
A vintage diner with big decks overlooks the Superpipe where you can see the Hall-of-Fame, stop for the BBQ, a deli sandwich or drink. The 3,000 foot (900m) Suntanner Terrain Park, one of six at the resort open to all types of slider, features tabletops, quarter-pipes, rhythm sections, spines and more. Designed and re-designed throughout the season by Stratton Park Rangers and local pros, the parks cover more that 45 acres (20 hectares), Access is via the American Express six-passenger lift.
A second park on Lower Downeaster is a mile (1.6km) long (15.5 acre) trail that's home to the U.S. Open boardercross competition. East Byrnes-Side terrain park features a halfpipe and bordercross course. The park was designed by Stratton pro and halfpipe champion Tricia Byrnes.
For the beginner and intermediate, three terrain parks feature hits designed to help build skills that will propel you to the pro parks (like timing, balance, edging ...). Try Daniel Webster (hits and glades), Hemlock and the Meadows (great afternoon sun, wide open cruising and spines, quarter pipe and roller. A half pipe is floodlit for night boarding.
The Stratton Snowboard School is the only one in the nation to boast a staff fully certified by the American Association of Snowboard Instructors. Three Stratton snowboard coaches are AASI Examiners and one is a member of the National Demo Team (the only snowboard instructor from the East to make the team!).
Infrastructure
Ski Lift Capacity
The 16 ski lifts are able to uplift 29,550 skiers and snowboarders every hour.
Snow Making
Snow-making is available, with 150 snow cannons.
Season Dates
When is Stratton Mountain open?
We don't currently have confirmed season dates, but hope to soon.
Usual opening is late November, and usual closing is Early April.
NOTE:- Ski area, lift and piste opening is subject to Current Snow Conditions.
COVID-19 / Coronavirus
We don't yet have specific details of the COVID-19 precautions being taken in Stratton Mountain, but they are likely to include most of the following :-
Face masks required on lifts, and in shops.
Social distancing in public areas.
Reduced lift capacity.
Extensive disinfection / sanitization.
French Ski Resort COVID-19 Measures describes further measures that may also be applied.
Visit the Stratton Mountain Tourist Office for the latest.
Talking about Stratton Mountain
Mentions in recent J2Ski News Items and Snow Reports from our users...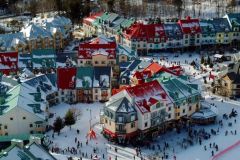 Aprés Ski
Stratton does not generally have a buzzing nightlife slopeside but tends to come alive at weekends and when special events are being staged - which is often. Most conviviality is concentrated in a few venues, including Grizzly's which sometimes has live music and The Green Door Pub at Mulligans with its pool tables, large screen TV and reoputedly more than 50 varieties of beer available.
Mulberry Street has a martini and cigar bar serving over fifty types of martinis or there's The Tavern at Stratton Mountain Inn which boasts a cosy atmosphere beside the roaring fireplace. A few miles down the hill the Red Fox at Bondville is popular with locals.