Winter 2023/2024 - DOUBLE YOUR ADS when you pre-pay
HALF PRICE for all Banner Advertising booked and paid for before the advertising start date.
See our Media Kit for our traffic stats, and email us on partners@j2ski.com NOW!
Ski Business Advertising on J2Ski
Effectively advertising a Snow Sports, Ski or Snowboard Business on J2Ski.
Why should I advertise on J2Ski ?
Because we're one of The Most Popular Ski Sites Worldwide and for UK Skiers, consistently attracting Millions of Visitors every year.
See more reasons why and our 2019/2020 Ski Season stats.
Advertising Options
You can choose from :-
Standard Banner / Display Advertising
Page Sponsorship
Targeting J2Ski with Google Adwords
Standard Banner / Display Advertising
Easy and effective, we'll show a display ad on our pages a certain number of times (views) and any interested J2Ski visitors will "click through" to land on your website.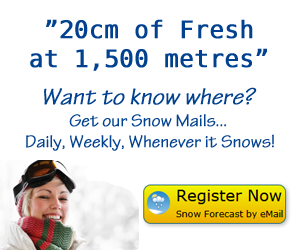 Just send us an email with :-
Your choice of graphic image in the format above.
The URL (web address) of the landing page our visitors should click to.
Your desired start date and volumes.
If you need assistance with planning a large-scale campaign, please contact us to discuss your requirements.
Targeting J2Ski with Google Adwords
If you know your CPM from your PPC then Google Adwords is an effective way of advertising on J2Ski.
Your Google Ad will be keyword-matched to the page(s) it is displayed upon - meaning that your ads will be shown on the most relevant pages for your business.
A Google Ad, automatically selected by Google for display on our Chamonix Chalets page.
COMPARISON - J2Ski Advertising Options
Banner / Display Advertising
Google Adwords
Available Ad Locations
Anywhere on J2Ski
Anywhere on J2Ski (subject to availability)
On-Site Targeting

Run of Site
Specific Pages (e.g. Snow Reports, French Chalets).

Pages matched by Keyword.
Pay
Per View
Per Click
Budget
Whatever you want
Whatever you want
Alternative Options
Please contact us, at partners(at)j2ski.com if you have particular requirements not met by our standard advertising options. One of the following may be more suitable for your specific business :-
Revenue Share Partnerships
If you offer a product or service of interest to our visitors, and can give us timely and comprehensive statistics for clicks and conversions, we would be delighted to consider working with you on a Revenue Share or Commission basis.
Page Sponsorship and Co-Branding
If you are looking to build brand awareness, then page sponsorship and co-branding can be an effective approach.
We will quote each requirement on a case-by-case basis, taking into account:
The popularity (number of visitors) of the page(s) required.
The prominence of the sponsorship proposed.
In the event of high demand for certain Ski Resort pages, we may limit the "share" of exposure for those pages. So, if there is a Ski Resort particularly relevant to your business, please contact us for a quotation.