Ski Schools and Group Lessons in Snoqualmie, United States
Snoqualmie Ski Schools
Ski Instructors, Ski Schools and Mountain Guides in the American Ski Resort of Snoqualmie.
The following links to Ski Schools and Instructors in Snoqualmie are provided for information, and the sites linked are not endorsed or guaranteed by J2Ski.
Ski Schools and Snowboard Training - Snoqualmie
PowderPigs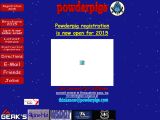 PowderPigs a ski school for children at snoqualmie pass washington.