J2Ski Snow Report 24th November 2022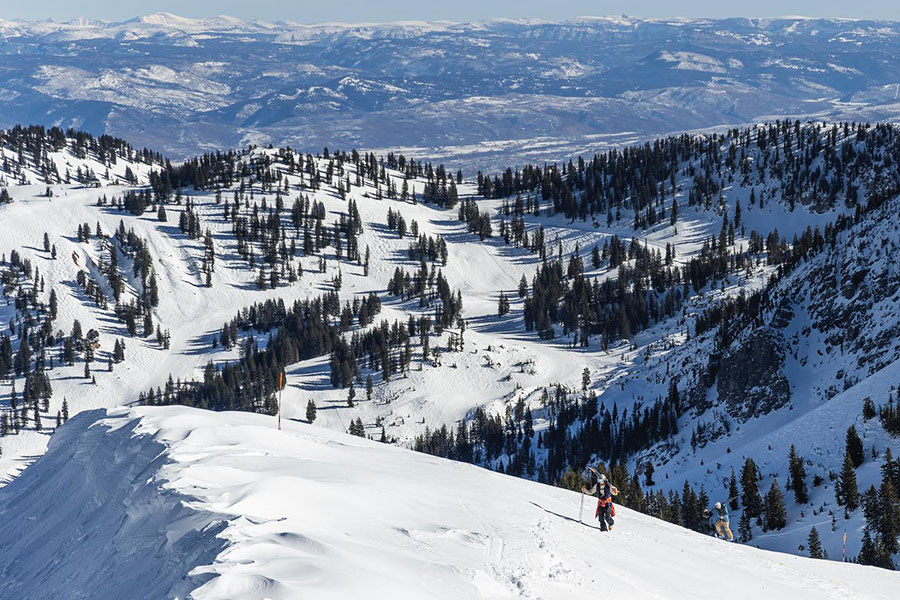 Alta, Utah, USA ... now open!
Over 100 resorts open in the US, snow in Europe.
The Snow Headlines - 24th November
- Snowfall down to low elevations in the Alps.
- More than 100 ski areas open in North America ahead of US Thanksgiving.
- Pyrenees ski season expected to start this weekend.
- More unusually heavy snowfall in Australia as summertime nears.
- Scottish ski hills turn white for first time this autumn.
- French ski season gets underway 'earlier than expected'.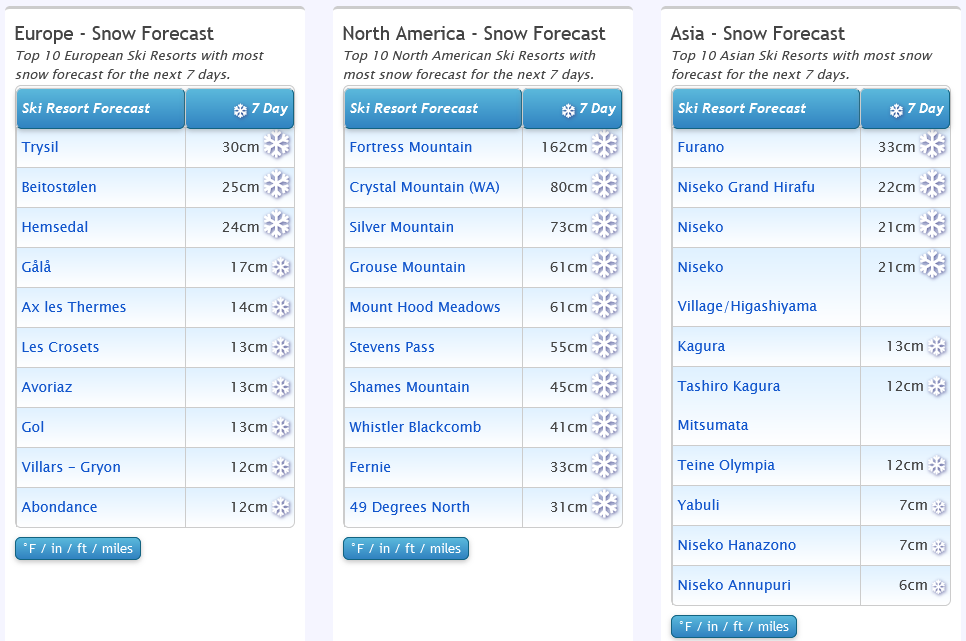 Where will it snow this week?
Re-publication :- our Snow Report Summary, being the text above this line, is free to re-publish, but must be clearly credited to www.J2ski.com with text including "J2Ski Snow Report" linked to this page - thank you.
World Overview
It's been a week of worldwide snowfall – on mountains at least.
The biggest difference is really being felt in Europe where nearly a week of snowfall (albeit generally light snow, but cold with it) in the Alps has dramatically improved conditions with snowfall down to lower valley floors.
There's also been snow reported everywhere from Portugal to Croatia and up north in Scotland, in the Tatra mountains and more for Scandinavia. Dozens more European ski areas will open this weekend to join the 30 or so already open, and those open already are adding much more already skiable terrain.
Things look good across North America too, with over 100 ski areas open for the Thanksgiving weekend across the continent, including most of the big name resorts now, as well as many smaller centres. Most areas are reporting a good season start with snow depths tracking about a month ahead of average for the time of year in the Rockies.
Even Australia reported still more snow – bizarrely up to 30cm just a week before the start of summertime there and long after the ski season ended. Some light snowfall up high for New Zealand too and in the Andes.
Europe
Austria
Austrian ski areas Obergurgl and neighbouring Solden are currently posting the top two biggest ski areas open in Europe so far, with about 40km of slopes open each. Solden say they plan to open much more from this coming weekend which should take the two Otztal areas past 100km between them.
Other Austrian resorts including
Ischgl
and
Obertauern
plan to start their seasons this weekend, adding to the competition. It's been a good week for snowfall with snow down to the valley floor across the country and 30-60cm of fresh on higher slopes.
France
The French ski season has stuttered to a start at
Tignes
. Having previously delayed its planned October opening to the last weekend of November, it decided it had enough snow to open a red run on the glacier last weekend, saying it was now opening 'a week early'. Ironically it couldn't open on the first day planned as the resort was stormbound as a week of snowfall began.
Val Thorens went the other way, postponing its planned opening, which is now this coming weekend.
Overall it's a much improved picture for the season start than previously, with snow down to the valley floor at resorts like
Chamonix
and Megeve and much more at higher elevations.
Italy
At time of writing there remain just a handful of smaller ski areas open in Italy but things should change from this weekend with big hitters
Courmayeur
, Cortina and
Madonna di Campiglio
all due to open.
Cervinia, too, is due to open terrain on its side of the border with Switzerland, having up to now just provided access to the Swiss side of the ski area.
As with most of Europe there's been plenty of snowfall and low temperatures with snow to low levels in the Alps and Dolomites.
Switzerland
Swiss centres have kept up with Austria for early season resorts opening, although more than half have just been opening weekends, until this coming one after which most go daily.
Plenty of fresh snowfall and cold weather here too.
Samnaun is one of the latest to open with its cross border slopes to Ischgl now open, and between them the biggest area open from Switzerland at time of writing at least – about 40km.
Laax,
Arosa
and
Adelboden
among areas due to start their season this weekend.
Scandinavia
Scandinavia's mountains are now seeing near constant sub-zero temperatures and frequent snow showers – if not yet really big accumulations.
World Cup racing at
Levi
in Finland last weekend showed a fully winter picture with floodlit slopes as daylight hours fast reduce.
Many of the region's biggest ski areas including
Trysil
,
Hemsedal
and
Geilo
in Norway are expected to open this weekend.
Pyrenees
Plenty of fresh snowfall reported in the Pyrenes this week.
The ski areas intending to open this weekend has been dropping but, at time of writing, Spain's biggest Baqueira/​Beret and
Porté Puymorens
on the French side are still aiming to start their 22-23 seasons this Saturday, most others a week later.
Scotland
Scottish mountains turned white at the weekend with snow down to about 200 metres altitude. Ski areas have also tested snowmaking systems but most don't plan to open until shortly before Christmas unless there's a very snowy December.
Eastern Europe
There's been snow across Eastern Europe this week and down to low elevations too.
Most ski areas don't plan to open until into December, but some, including Slovakia's largest Jasna, are due to open their first terrain from this weekend.
North America
Canada
Canada's ski season continues to gather pace with the biggest ski areas in the East (Tremblant) and West (Whistler) both opening in the last few days, tying in with the US Thanksgiving holiday weekend south of the border. Both have had some snowfall.
In Quebec ski areas opening is more thanks to snowmaking in low temperature.
Many other Canadian resorts are now open with the best of the deep snow so far in central and eastern BC and Alberta. BC's Silver Star is posting the deepest base in North America so far at just under two metres.
USA
The US has seen a huge leap in ski areas opening in time for the Thanksgiving holiday weekend.
The snowfall has eased in most areas but late October/first-half of November bases built have allowed around three quarters of the bigger resorts (and many smaller ones) in the west to open now while in the east cold weather has enabled snowmaking systems to make enough snow at resorts like
Killington
,
Stowe
,
Sugarloaf
and
Sunday River
for them all to open.
Some natural snowfall helped, nowhere more so than upstate New York where the lake-effect snowstorm that hit last weekend, particularly at Buffalo - where six feet of snow landed in 36 hours – made international news.
Mammoth has the deepest base so far with just over six-feet lying on upper slopes.
Alta in Utah has one of the largest areas of terrain open this early in the season – more than 50 miles of runs.