J2Ski Snow Report 20th October 2022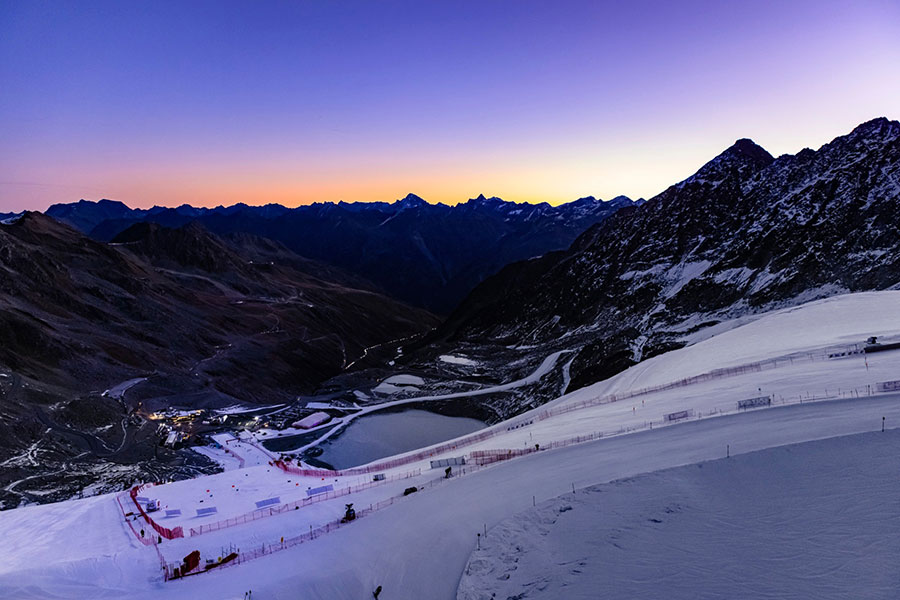 Solden, Austria, preparing for the FIS World Cup opening races this coming weekend...
A few US ski areas open, World Cup racing due to start in Austria.
The Snow Headlines - 20th October
- First three centres open for the season in the USA.
- Solden to host FIS Alpine World Cup season-opening races this weekend.
- Only two centres are left open in the southern hemisphere, both in New Zealand.
- First snow reported on high slopes in Scotland.
- Idre Fjall and Kabdalis due to be first to open for season in Sweden this weekend.
- The last centres close in the Andes ending the 2022 season in South America.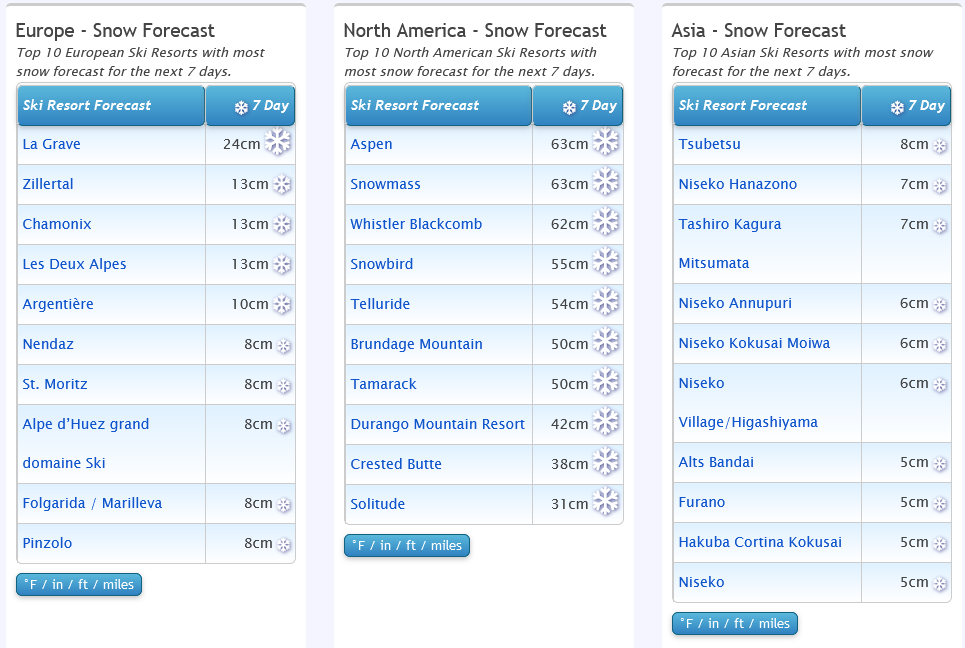 See where it's going to snow next week...
Re-publication :- our Snow Report Summary, being the text above this line, is free to re-publish, but must be clearly credited to www.J2ski.com with text including "J2Ski Snow Report" linked to this page - thank you.
World Overview
The 22-23 season continues to gather momentum in the northern hemisphere while the 2022 season is on its very last legs south of the equator - with the last remaining centres there due to close this Sunday (apart from one terrain park hoping to stay open into November).
There's fresh snowfall to report on both sides of the world too, if not anything too significant.
The biggest falls of 20-40cm (8-16") have been reported in the Andes, parts of Scandinavia and in US Midwest. October snowfall there isn't that unusual although the volume is well above average. It's here too that at least three small areas have claimed first to open for North America in the last few days – although they used snow-making rather than the natural snowfall to do so.
Most of the world's currently open areas are glaciers in the Alps, half of them in Austria. It's been a dry and sunny week here, again, but there is some snowfall forecast for the weekend.
Europe
Most of the wintery weather in Europe this week has been in the north with some of the first snow spotted on high slopes in Scotland and more significant falls to lower elevations in Scandinavia.
Two Swedish ski areas aim to start their 22-23 season from Saturday, using snow farming to create a few runs each.
The Alps have seen a lot of sunshine and slightly warmer weather up high but that's meant great conditions for those lucky enough to be on the slopes already and there is at least some snowfall forecast at the weekend.
Austria
Austria continues to be where it's at for skiing with more ski areas open than anywhere else in the world.
They include
Hintertux
– the only ski resort that managed to stay open through the summer, and now the only centre in the world with more than 20 miles of slopes currently open.
Solden is also open, and plays host to the first round of the FIS Alpine World Cup 22-23 tour this coming weekend.
The other open centres –
Stubai
,
Pitztal
,
Kaunertal
and
Kitzsteinhorn
are busy too, with several staging Oktoberfests, new season gear tests and unveiling their early peak setups.
It's been another fairly dry, mostly sunny week, if anything a little warmer than it has been in the daytime, on glaciers (+4-+6C), although below freezing overnight.
However, a decent dump (15-30cm) is expected for many at last at the weekend.
France
Alas, France remains the only one of the big four nations not yet to have opened for the 22-23 season with Les 2 Alpes and
Tignes
both reporting some snowfall but not enough to open, as both had hoped to by now.
The past few days have seen an Indian summer with temperatures a little warmer than they had been too. But the coming week is looking colder and potentially snowier.
This could be the first year in more than 50 with no French area open in October, although Tignes say they will open as soon as they get enough snowfall.
Italy
Two Italian ski areas remain open with thin cover – Passo Stelvio and
Val Senales
.
The latter has been hosting a lot of the world's top ski racers for pre-season training in recent weeks including the Italian and US World Cup teams.
It's also possible to reach
Zermatt
's glacier slopes from Cervinia.
The weather has been mostly dry and sunny but getting below freezing overnight and not too high above, up on the glaciers, in the daytime.
Switzerland
Engelberg, Saas Fee and Zermatt remain the three open options in Switzerland with The
Diavolezza
glacier near St Moritz and
Andermatt
hoping to join them at the end of next week.
The country has had the same predominantly dry and sunny weather that the rest of the Alps have had the last seven days, but snowfall is also expected here at the weekend.
Saas Fee and Zermatt are also among just a few ski areas worldwide reporting more than a metre of snow lying. Zermatt continues to build up to hopefully hosting the new cross-border downhill speed season-opening World Cup races from the weekend after next.
Scandinavia
Sweden's 22-23 ski season is due to kick off this weekend with
Idre Fjäll
and Kåbdalis ski areas set to open thanks to snow farming – spreading snow saved from last season back out on the slopes now temperatures are dropping.
They'll join Finland's
Levi
and
Ruka
, which opened a fortnight ago using the same technique, and Norway's Galdhopiggen summer ski area which is open for a few more weeks before its stop-start 2022 season ends.
Scandinavia has felt the most wintery place in Europe over the last week with cold weather and snow showers down to mid-mountain at many ski areas when much of the rest of the continent has been predominantly sunny.
North America
For the second time in three winters, ski areas in the US Midwest have claimed the first spot in the race to open for the ski season. Cold temperatures allowed ski areas in Minnesota to fire up snow-making systems and within 72 hours the first,
Wild Mountain
, had opened a small area with terrain park features and a second centre opened within an hour on Tuesday, then a third on Wednesday.
Wild Mountain had been first in North America in 2020 too. The Midwest also reported the most North American snow this week, with up to 18" (45cm) reported in Michigan, but so far the centres open have been in areas that haven't seen natural snowfalls.
It's continued dry further west and some Colorado ski areas like
Arapahoe Basin
and Loveland look close to opening, but no announcement yet. It could change any time though and there's a decent dump of snow finally forecast for the Rockies in the next few days which could really change things for the better if it arrives as anticipated.
Southern Hemisphere
We are down to two centres still open in the southern hemisphere although more fresh snowfalls have been reported up high in the Andes in the past few days, where the last centres still open for winter 22 closed last weekend.
Mount Hutt
and
Whakapapa
are in the final days of their 2022 seasons, both closing on Sunday. Mt Hutt has the much deeper snowpack and still what's currently the second most terrain open anywhere in the world – 31km/19 miles. After the main runs close it is planning to keep a terrain park open for 2-3 weeks into November.