J2Ski Snow Report 28th July 2022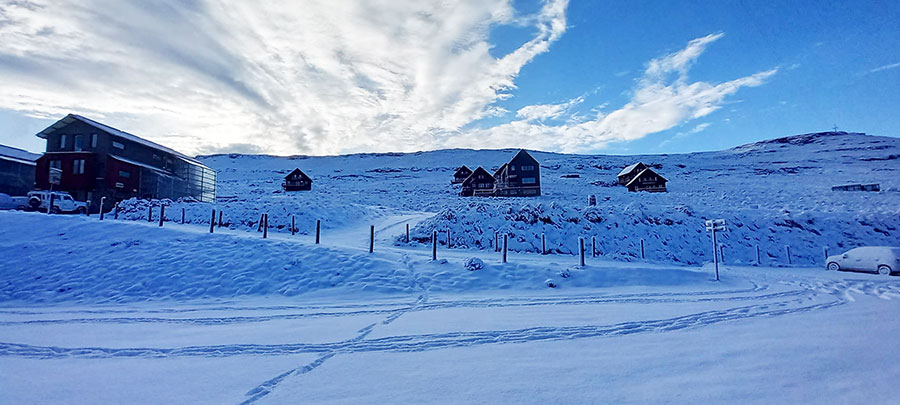 Can you guess where this is? It's Afriski, in Lesotho, Africa!
New Zealand gets the goods, again...
The Snow Headlines - 28th July
- More snowfall in New Zealand.
- Italy's Passo Stelvio latest glacier to close, no summer skiing in France or Italy now.
-
Zermatt
will close as well, temporarily, from Friday, July 29th.
- Police close roads to Aussie ski resorts at weekend as carparks full.
- Final week of the 2022 season at Japan's Gassan summer ski area.
- Deepest base in the southern hemisphere reaches 3.5m (nearly 12 feet).
- Fresh snowfall in Africa.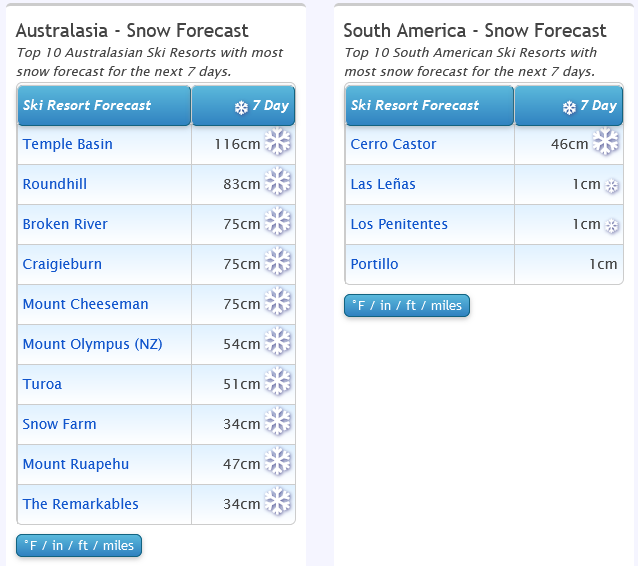 More inbound for New Zealand...
Re-publication :- our Snow Report Summary, being the text above this line, is free to re-publish, but must be clearly credited to www.J2ski.com with text including "J2Ski Snow Report" linked to this page - thank you.
World Overview
After the heavy snowfall across southern hemisphere ski slopes earlier this month the past week has been much quieter, although most centres - even Afriski in Lesotho - have reported some fresh snow; just much lighter accumulations than before. Bases are going in the right direction almost everywhere though with the thickest snowpack now up to 3.5 metres, in the Andes.
Pretty much the opposite is the case in the northern hemisphere with more hot weather continuing to impact the snowpack even at high altitudes up on glaciers. Passo Stelvio and Zermatt are the latest Alpine glaciers forced to suspend their summer skiing leaving only three glaciers open to the public in Europe as we enter August, a new all-time low in a summer of all-time lows.
One centre remains open in North America too with the last still open in Asia due to end its 2022 run this coming weekend.
Australia
A second fairly quiet week on Aussie slopes in terms of snowfall after the big dump almost a fortnight ago.
Most ski areas have been publishing fairly sublime conditions with light snowfalls freshening up slope surfaces, pretty much everywhere open and plenty of sunshine. First-hand (rather than marketing) snow reports have been a little less enthusiastic with the snow described as "heavy and wet" by one visitor to
Falls Creek
at the weekend. But that hasn't impacted enthusiasm - with the police turning around skiers and boarders trying to drive to
Perisher
and
Thredbo
mid-morning on Saturday as the car parks were full.
New Zealand
A much better week these last seven days than the week before.
Ski areas reported fabulous conditions at the weekend after things settled down following a fresh snowfall that ended a few days of storm closures for many. The business was such that several areas had to announce they'd hit capacity early on Saturday and Sunday.
There was another snowfall, quite significant (20-40cm) for some, midweek.
Treble Cone is still posting the country's deepest base at around 2.5 metres (eight feet) but most South Island areas have almost all runs open and a decent base. Things are improving on the North Island where there's been much less snowfall and the country's largest resort, Mt Ruapehu, has struggled to open much terrain so far. They announced a major lift opening at the
Whakapapa
base at the weekend.
South America
The heavy snowfall earlier this month has eased over the last week but there have still been some smaller 'top up' snow showers and there's plenty of powder to be found in the backcountry for those arriving with a guide.
The continent's largest area, Catedral near
Bariloche
in Argentina, has almost all of its terrain open – about 100km of slopes, and in fact the largest area open in the world at present. Chile's
Nevados de Chillán
, one of the country's more southerly ski centres, really got dumped on in the early July storms and is posting the continent's (and the southern hemisphere's) deepest base with 3.5m (nearly 12 feet) of snow lying on its higher slopes.
Africa
There's been some fresh snowfall at Afriski in Lesotho, which actually caused some access problems on the high pass over from South Africa. These have been resolved now and temperatures varying between subzero and plus 10C have led to issues like fog at times. For now, everything remains open and there are about four weeks of the 2022 season left.
Europe
More bad news from the Alps alas as the ongoing hot weather following the drier-than-usual winter takes its toll on glacier summer ski centres. Passo Stelvio and Zermatt are the latest to close due to these conditions, noting the freezing point was high above the highest mountain peaks day and night.
Passo Stelvio is already closed, Zermatt will join it from Friday. Stelvio has still maintained a small cat skiing operation for race teams on a remaining snow patch but, for now, the lifts have closed.
That means only three glaciers remain open to the public – all with thin cover – with none left open at present in France or Italy. Two of the three are in Norway, Fonna and (re-opening this weekend), Goldhopiggen, the first time more have been open in Scandinavia than the Alps.
Hintertux in the Austrian Tirol, the only other ski area besides Zermatt to try to open every day of the year, is now the only centre still open in the Alps. However, its base is rapidly thinning too and slopes open have dropped from 20km to 6km in the last week.
Saas-Fee is also open but only with about half of its usual glacier area open and only to pre-booked race teams. Both Passo Stelvio and Zermatt say they'll re-open as soon as conditions improve. So far though the weather remains stubbornly warm, even at altitude.
North America
The talk in North America has all been of very high fire danger due to high temperatures and drought rather than snow, but one ski area remains open high on Mount hood in Oregon, above the
Timberline
ski area, despite the heat in the 80s and 90s (F) down in the valley below. The snow is thawing fast on the Palmer snowfield but is still reported to be about six feet deep and it is hoping to make it through to the end of August.
A snowpark is also open above
Copper Mountain
in Colorado but only to those signed up for private camps.
Asia
It's the final weekend of Asia's lift-accessed 21-22 season coming up with the last area still open, Gassan in Japan, ending its season on Sunday. The base there started at 8 metres when it opened in August but is now down to 50cm left in patches up high which need to be hiked to from the top of the double chairlift.