J2Ski Snow Report 10th February 2022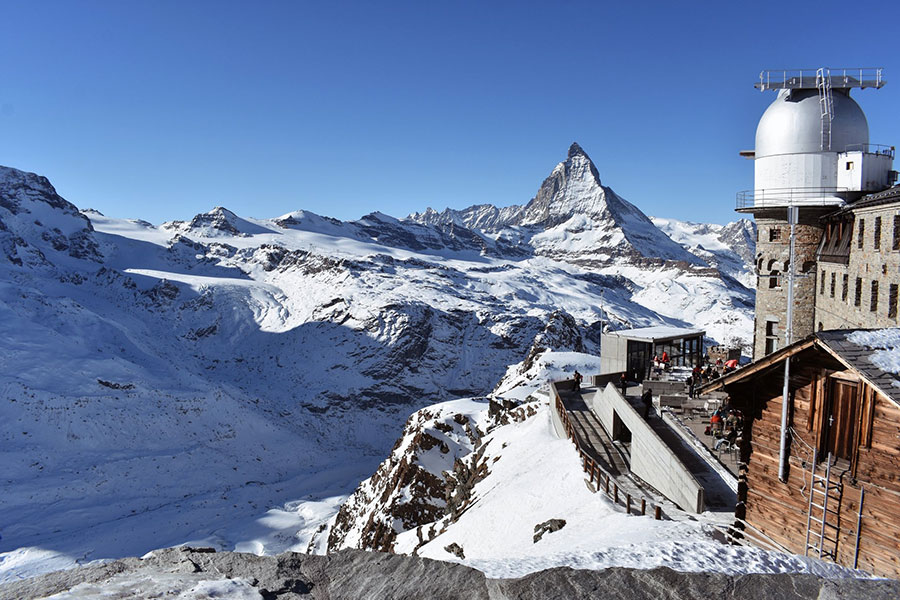 Zermatt, Switzerland and a famous mountain in the sunshine...
Snow for Austria, Japan and USA...
The Snow Headlines - 10th February
- Two snowstorms in a week bring a metre of snowfall to some areas in the Alps.
- Snowfall causes high avalanche danger, multiple fatalities in Tirol region.
- Alaskan ski area reports deepest base in North America, over 4 metres (13 feet).
- More Japanese ski areas pass 10-metre seasonal snowfall totals, ~5m base depths.
- Another snowstorm in Eastern North America delivers another 1-2 feet of snow.
- Scandinavian ski areas see big falls, deep powder in western Norway.
- Scottish area opens a few runs beyond the snow-machine made base.
There's snow inbound for the Alps, but quantities still uncertain.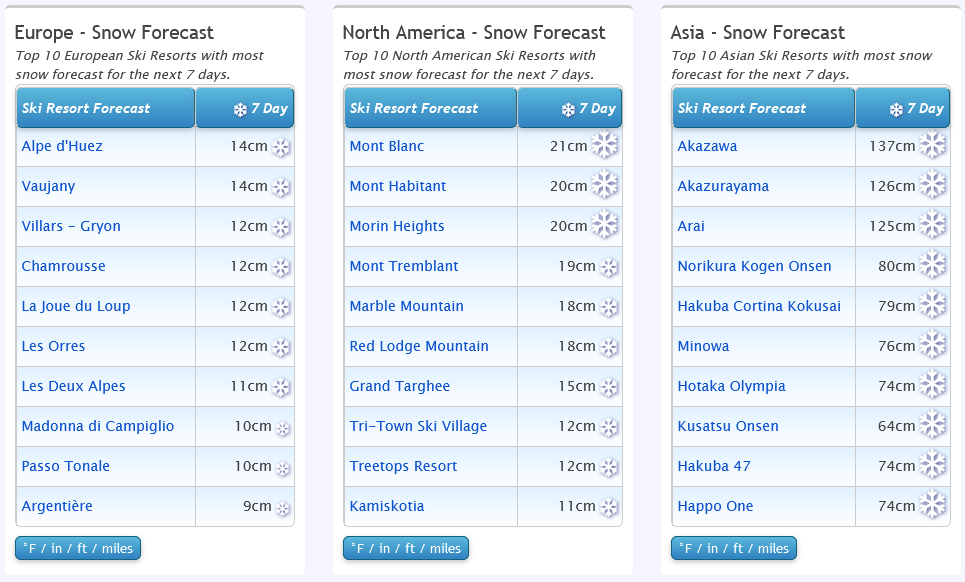 Snow in the forecasts, although the models can't make up their minds how much for Europe!
Re-publication :- our Snow Report Summary, being the text above this line, is free to re-publish, but must be clearly credited to www.J2ski.com with text including "J2Ski Snow Report" linked to this page - thank you.
World Overview
Europe
We've had two big snowstorms in the Alps in the seven days since our last report ...which is the first time that's happened this season!
The first, at the end of last week, was concentrated in the Eastern and central Alps with resorts in Austria, Southern Germany, Switzerland and Northern Italy reporting up to a metre (40 inches) of snow and once the skies cleared at the weekend, amazing conditions. Then a second snowstorm on Monday covered a wider area with another 50cm or so in the Eastern Alps but this time ski areas in France in the west reporting up to 30cm too.
All the snow did push avalanche danger up to very high levels, particularly in Austria's Tirol where, sadly, five ski tourers were killed in one avalanche and five rescued from under the snow in another.
The sun has come back out since, but there's more snowfall in the forecast.
In the rest of Europe, there have been significant snowfalls too in Eastern Europe, Scandinavia and even Scotland where slopes are just about able to open for the season beyond the all-weather-snow-machine-maintained small areas at the country's ski centres' bases.
North America

It has been a repeat of the previous week really in North America with largely sunny weather once more in the West, cold and overcast skies in the east with another big storm bringing a foot or two of snowfall to ski areas in the Northeast going into last weekend.
Alaska has moved to the top of the table for snow depth in North America with snow dumping on
Alyeska
, its upper slopes now buried more than 14 feet/4 metres deep.
Although there have been a few inches of snow for ski areas in the rest of Western US, there's little change on seven days ago. Most ski slopes are open across the country with the biggest resorts like
Park City
and
Whistler Blackcomb
fully open for a few weeks now and the largest areas in the East like
Killington
, Tremblant and
Sunday River
joining them in having every trail open thanks to the latest snowfalls there.
Europe
Austria
Austria saw its biggest snowfalls of the season just after our last report went out at the end of last week.
A major storm saw reports of up to 110cm (44") accumulations for some areas, and many saw at least half a metre of fresh snowfall.
As mentioned in our introduction the snowfall did push the avalanche danger level up to 4 on the scale and there were dozens of avalanches reported, several causing fatalities.
Sunday-Monday saw another snowstorm roll in, bringing a second 50cm accumulation in days to ski areas in the Ziller valley, among others.
The storm just before the weekend and rapid snow build-up led to temporary resort closures whilst slopes and access roads were made safe but the past week has seen largely clear skies and ski areas reporting sublime conditions with the fresh cover. Many had another snowfall on Tuesday but it has been sunny again since. The country's Loser ski area now has Europe's deepest reported base at 3 metres/190 feet.
France
France largely missed out on most of the snowfall from the big storm that hit at the end of last week but ski areas in the country's Northern Alps were major beneficiaries of the second snowstorm at the start of this week - bringing up to 30cm (a foot) of snow in 24 hours top the region.
Val d'Isere and La Rosiere both posted 25cm (10 inches) accumulations on Monday. The country's deepest snow remains in the Pyrenees as it has been since the start of the season, although the snowpack is slowly diminishing there and growing in the Alps.
Porté Puymorens has the most with 260cm with
Flaine
and
La Clusaz
now only 10cm behind with 250cm on their upper slopes. It's noteworthy though that some low lying traditional resorts are only reporting 10-30cm on their lowest slopes.
Italy
Most of Italy has had some snowfall in the past week, although some much more than others. It was the areas in the north of the country which benefitted from the same big storm that hit much of Switzerland, Austria, as well as southern Germany and the Tatra Mountains at the end of last week which brought 50cm or so of snowfall to resorts like Cervinia.
The weekend was mostly dry but then another wave of snowfall on Monday brought another 5-15cm to resorts in regions like Trentino. There have been mostly sunny skies since but further light to moderate snow is expected to end the week.
Switzerland
Depending on where they are in the country Swiss ski areas also saw two snowfalls and a growing avalanche danger over the past week, and a third snowfall is expected to end this week.
The rail line up from Villars to its ski area was dramatically hit by an avalanche, sweeping much of an empty train from the tracks, although fortunately the carriage with the driver in was left on the tracks and they were unhurt.
The past few days have been sunny and although cold on the slopes, some villages have seen +10C in the afternoon.
Laax
(65/297cm / 32/110") is posting the country's deepest snowpack.
Scandinavia
Snow conditions are getting better and better in Scandinavia just as the daylight hours bounce rapidly back up from zero over Christmas and New Year in the far north.
Bjorkliden in the Swedish Arctic Circle opens for its 2022 season this weekend, following the northernmost ski area in the world up at North Cape in the far north of Norway.
There's been more snowfall in Lapland over the past week and other northern areas but the biggest dumps have been along Norway's North Sea coast where ski areas like
Voss
have been reporting the kind of powder drops they're famous for - but had not really seen this season until the start of February.
Pyrenees
It has been yet another predominantly sunny week in the Pyrenees with most areas seeing wall-to-wall sunshine as has been the case for pretty much two months now, with a few brief exceptions.
The region is still boasting some of the deepest snow depths in Europe thanks to big early-season snowfalls in late November and early December, meaning most areas remain fully open, in the case of the largest ski areas like
Grandvalira
in Andorra and Baqueira Beret in Spain that's with more than 160km (100 miles) of runs skiable.
There are signs of a change in the weather, although it may only be brief, with snow-bearing clouds expected to move in to end the week.
Scotland
Things have continued to improve in Scotland with plenty of snowfall, particularly in the west, albeit driven in on gale force winds and with the common Scottish problem of temperatures yoyo-ing up to 5 to ten degrees above freezing after the cold, setting things back again.
Glencoe
announced Monday it had enough snow to open some lower runs beyond the base area all-weather snow machine but then more gales, warm temperatures and rain hit - although it has since cooled down again and at the time of writing Glencoe did have a handful of lower runs open for the first time since December.
Eastern Europe

It's been quite a snowy week in most parts of eastern Europe with ski areas in Bulgaria, the Czech Republic, Romania, Slovakia and Serbia all reporting 30-60cm (1-2 foot) snowfalls in the past week, the heaviest falls just before the weekend.
As a result skiers and boarders in these countries have been enjoying some deep snow conditions and centres have been opening up more terrain.
In several cases, it has meant centres have had every run open for the first time this season. With 1-2 metre slope depth averages, it's starting to look good for them to see out the season into April now, even if there's not much more snowfall.
North America

Canada
Last week ended with fresh snow (10-20cm) in both east and west Canada, but the past five or six days have been generally dry across the country, with sunshine in the west, more overcast skies in the east.
It's in the East that temperatures have been lowest and snowfall has just started to return over the past few days. Unfortunately, the West is staying dry for now and over on the Pacific coast back to quite warm daytime temperatures at low elevations, as high as +10 Celsius at Whistler's Base.
Despite that, everything is open thanks to a decent base built up over the past few months.
Kimberley
in Eastern BC in the West and Tremblant in Quebec both have just under 3 metres of snow lying on their upper slopes, the most of any areas in the country.
USA
The Eastern US has once again been the region to see the most snowfall over the past week with another major winter storm just after our last update at the end of last week bringing at least a foot of snow to the Northeast (and chaos to the region's cities) in a repeat of the previous week.
Up in Maine ski areas like
Sugarloaf
and Sunday River reported nearly two feet more snowfall and deep powder.
The wider region has finally caught up after the poor start to the season in November and December and everywhere is now fully open. Cold and overcast skies since, after a sunny weekend, with more snow showers too.
In the West, it has been another largely sunny week although some areas have had light snowfalls and it is looking like there's more on the way this weekend. That has been the pattern for much of 2022 so far. Most resorts are fully open though thanks to big snowfalls building bases back in December.