J2Ski Snow Report 9th December 2021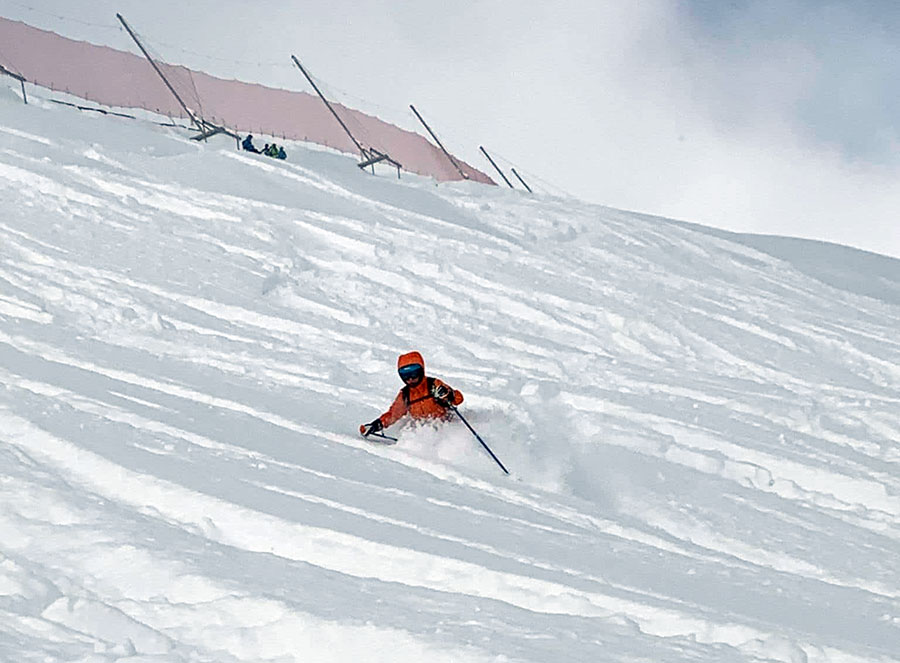 Snoworks Ski Courses, Tignes, enjoying the powder...
Powder in the Alps, and elsewhere...
The Snow Headlines - 9th December
- Hundreds of ski areas now open for the first time since March 2020.
-
Val Gardena
the first area to open more than 100 miles of trails this winter.
- After a dry Fall, a series of storms, some snow-bearing, hit North America.
-
Ischgl
opens more terrain than anywhere else in the Alps, only for locals for now.
- Heavy snowfall in Hawaii!
- Another metre of snow for slopes around
Banff
in Canada.
- Decision imminent on whether Austrian ski areas can resume tourism from Monday.
- Largest resorts open in Scandinavia for 21-22 season.
- First ski areas opening in Eastern Europe for 21-22 season.
- One BC reports record opening snow depth, another delays opening for too little snow.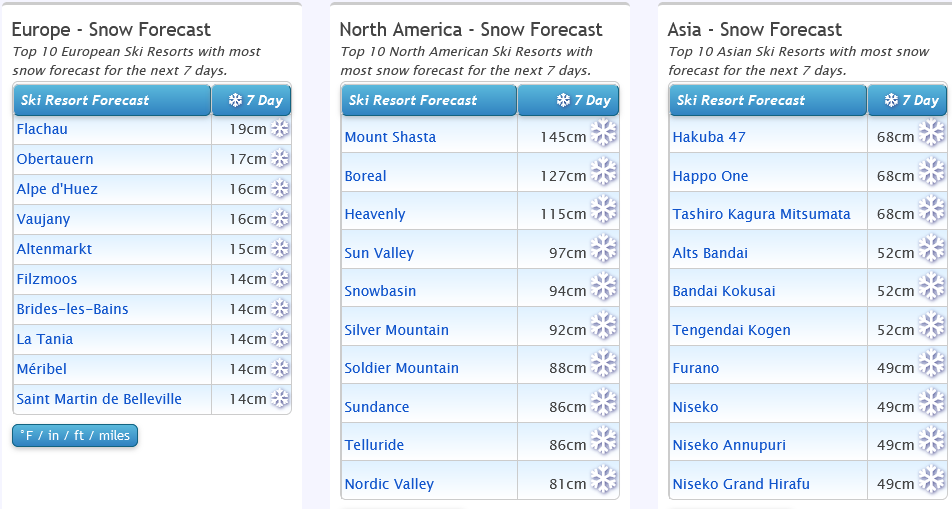 Snow in the forecast for Europe, America and Japan...
Re-publication :- our Snow Report Summary, being the text above this line, is free to re-publish, but must be clearly credited to www.J2ski.com with text including "J2Ski Snow Report" linked to this page - thank you.
World Overview
Europe
In most respects, it has been a very good week for European skiing. Hundreds of ski areas opened at the weekend, the majority of them not having opened since the start of the first lockdown in March last year.
Not only that but it has been dumping down so there's loads of snow everywhere, some resorts in Austria and France reporting accumulations of up to a metre (40") over the last seven days. The snowfall in France and Western Switzerland/Italy has been particularly heavy and a great sign this early in the season. Against that of course there's the ongoing fear of the virus, particularly the new omicron variant and that ski areas will be shut down again as a result. So far though governments have reacted by tightening border restrictions, requiring more testing, and at ski areas possession of the covid passport to ride the lifts.
North America
Things are starting to improve on North American ski slopes although we don't yet seem to be in full winter – except in a few northerly locations. However, the warm, dry weather that has plagued much of the continent for much of the past few months (after some promising early snow in October!) has been shaken up by a series of storms moving across the continent this week from West to East. These are still ongoing and the jury is out somewhat on just how much good they'll do, the problem is some are coming in on warm air and actually raising temperatures again and bringing rain to some areas.
Ski areas from Colorado to Quebec have been reporting some fresh snow at least in recent days. More promising cold and (hopefully) powder-bearing fronts are coming over and these now look like they're the start of a trend and "winter reset" for the latter half of the month.
More and more areas have been opening, those already open have been scraping together more terrain to open and the overall movement is definitely in the right direction. Special mention is also needed for the ski areas around Banff as well as those of Eastern BC including
Kicking Horse
and
Sun Peaks
which have seen some of the biggest snowfalls in the world and have the deepest snow and most terrain open on the continent at present.
Europe
Austria
Austria remains in lockdown but we should learn any day now if that is due to end on Sunday or be extended.
Although tourism is banned and hotels and restaurants must stay closed, ski areas can open for local people to enjoy their empty slopes, so long as they're vaccinated, and more and more have been doing so, obviously in the hope that they can re-join the rest of Europe next week.
The country's largest ski area by some measures, Saalbach, was one of them, as was Ischgl, which unveiled 126km of open slopes on Saturday, the most in the world at this point. They have also been helped by pretty good snow conditions with most areas getting 30-60cm of fresh snowfall at the end of last week, and many getting more at the weekend. It was a dry start to the week but for many, the snow is now falling again making December very good so far for snowfall.
France
It's safe to say that despite tightening COVID regulations this has been the best week in French ski resorts since the start of March last year.
More than 40 areas have opened for winter 21-22, most not having been open for lift-served skiing for more than 20 months, and the icing on the cake was heavy snowfall for opening weekend, with resorts in the Tarentaise reporting up to 40cm in 24 hours.
Temperatures have stayed very low, double-digits below freezing in the mountains and sub-zero in most resorts down in the valleys too so the snow is now building bases for the season.
Most of the rest of the country's resorts are scheduled to open this coming weekend.
There was more heavy snowfall on Tuesday/Wednesday with some resorts posting storm totals of 80cm+ and mid-winter conditions as we publish.
The country's health pass (or equivalent) must now be used to get on lifts and a face mask must be worn even on open-air lifts like drags and chairs.
Italy
Italy has opened the most ski areas in Europe so far and the most terrain with more than 60 centres open, many of them in the
Dolomiti Superski
region which reported around 700km of terrain open in total. That included 178km at Val Gardena which announced it was fully open from day one on Saturday, with the biggest ski area open in the world this week.
Ski areas in the Italian Alps and along the country's northern border received the heaviest snowfalls but in the Dolomites, most areas reported 20-40cm of new snow, with more periods of sunshine than further north and west. Very cold across the country, staying below freezing even at resort level day and night in most areas and hitting as low as -20C in the mountains at night.
Switzerland
Very low temperatures (as low as -25C) and some snowfall have been a factor on Swiss slopes over the past week, as about half of the country's larger resorts are now open for the season. Swiss centres were allowed to stay open last winter, of course, the only major Alpine nation that allowed that, but there were few international guests as other nations locked down.
The largest ski area open in the country is currently that shared between
Samnaun
and Ischgl (over the Austrian border). Zermatt-Cervinia has also been opening more terrain but doesn't have as much open as it usually does at this time of year when it often boasts the most open in the world in late November/early December.
Scandinavia
Most of Scandinavia's leading ski areas opened at the weekend.
Finland's biggest ski areas have of course already been open a while, some for two months, but the SkiStar group which operates the region's biggest resorts including Sälen and Åre in Sweden, as well as
Trysil
and
Hemsedal
in Norway, opens them all from this weekend.
Other leading resorts have opened or are opening too.
So far terrain is limited, it has been a warmer autumn than usual and initially, some areas had rain instead of snow, but things have cooled down; in fact, it's bitterly cold, and ski areas are making up for the lost time in terms of snowmaking. There's some natural snowfall too.
Pyrenees
It's looking good in the Pyrenees with ski areas open on the French and Spanish sides of the mountains as well as in Andorra. Last season just a handful of areas managed a very limited opening to locals only from January.
This winter, ski areas on the French side have some of the deepest bases in the world at the moment with up to 2 metres lying on upper slopes and after some good pre-season snowfalls resorts like Baqueira Beret,
Formigal
and
Grandvalira
are posting some of the most terrain open anywhere in the world at present – 100-130km, so a much better picture.
Again many of the areas now open since the weekend haven't operated for more than 600 days since March last year.
Scotland
After an unusually warm autumn, conditions are looking much more promising on Scottish ski slopes – which have turned white over the past week with several snowfalls and so far temperatures keeping low.
Glencoe
opened its popular sledging park on Saturday, boosted by snow made by its all-weather system. The excitement in the snowsports community was also raised at Cairngorm when the access road was closed so the snowplough could clear the carparks.
Eastern Europe
It's an improving picture in Eastern Europe where the first small areas are reported to have opened for the season last weekend and bigger players like Bulgaria's
Bansko
and Romania's
Poiana Brasov
are expected to get their lifts turning this coming weekend.
There's been some, if not a lot, of natural snowfall and temperatures generally cold enough for snowmaking, although warm spells and rain at this early point in the winter have happened occasionally too, setting efforts back.
North America
Canada
Ski areas in Alberta and Eastern BC reported some of the biggest snowfalls in the world at the end of last week. Sunshine ski area near Banff closed for two days due to extreme avalanche danger just before
Lake Louise
began its second weekend of World Cup racing, with the women competing this time, after posting more than a metre of snowfall in the previous seven days. They were also posting the most terrain open of any ski areas in the world at the end of last week.
Kicking horse, which opens this weekend, says it will have its deepest ever opening day base at 1.7 metres after 3.5 metres of pre-season snowfall. But they're having a much better time of it than much of the rest of Canada and indeed all of North America.
There was rain for some ski areas in both southern BC on Canada's Pacific coast and over in Quebec in the past week, so while temperatures have been mostly low and there's been some natural snowfall and good snowmaking weather, things are still running behind where they should be at this point of the year in terms of terrain it's possible to open.
Red Mountain in BC has delayed its planned opening this weekend due to too little snow. That said areas in Quebec reported 20cm of snowfall on Wednesday, and one, Massif du Sud, said it would have been opening this weekend but can't get enough staff, so is targeting the 17th now.
USA
These are troubling times for fans of America's usually powdery slopes. Of course, it remains very early in the season, but still, there has been little natural snowfall anywhere in the country for six weeks now and while most leading resorts have managed to open, except on the Pacific Coast, bases remain low and temperatures worryingly mild as we move further into December.
However, we can report a series of storms moving across the country that will hopefully bring snow; some areas might get quite a lot, but others that need it badly not much. There are also worrying signs of some of the storms coming in on warm air well above freezing and potentially bringing rain, the last thing that's needed now.
Although most ski areas in California remain closed
Mammoth Mountain
has clocked up six weeks of operations now and still has the most terrain open in the country – 25 miles of slopes.
Alta in Utah meanwhile reports the deepest snow in the country at 75cm or 30 inches. Fingers crossed the storms produce more snow everywhere than forecast so we can have a much more upbeat report this time next week. The Pacific Northwest regions looks most likely to see a decent dump.