J2Ski Snow Report 2nd December 2021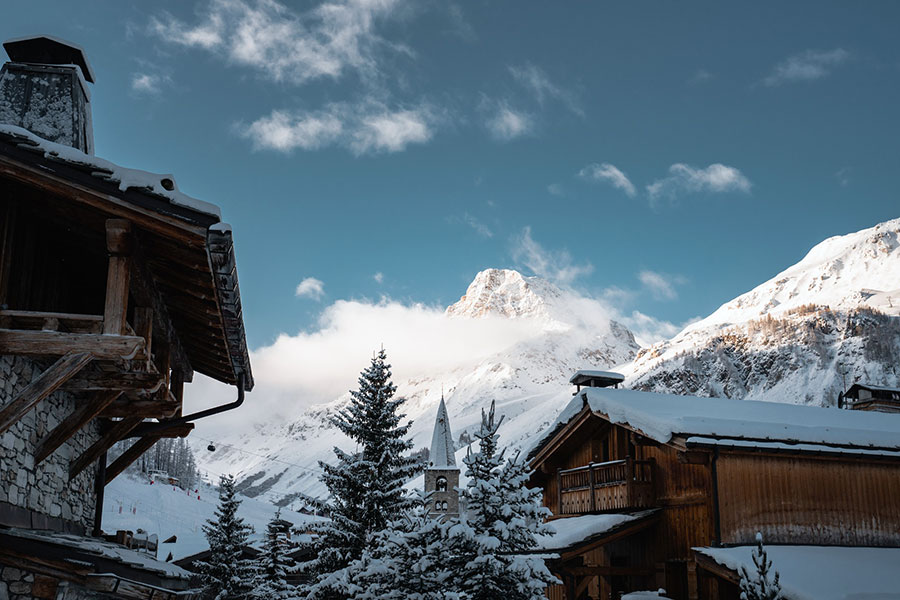 Val d'Isere, France, with some fresh snow...
Lots of snow in the Alps, and more to come!
The Snow Headlines - 2nd December
- Snowy weather hits the Alps, but gales close high slopes for a while too.
- Some French resorts, including
La Clusaz
, open early (for the weekend) thanks to snow.
- Andorra opens for the season.
- North America hosts first World Cup ski races for two years in Canada and US.
- Major ski areas open for the season in Spain, good news after last season hardly happened.
-
Lake Louise
cancels 2 of 3 World Cup races but has most terrain open in world at present.
- Heavy snowfall in Japan as 21-22 season gets underway there with borders still closed.
- A few Italian ski areas delay opening, blame warm weather, then get snow.
- Baqueira Beret passes 70km of terrain open, believed to be most in Europe this week.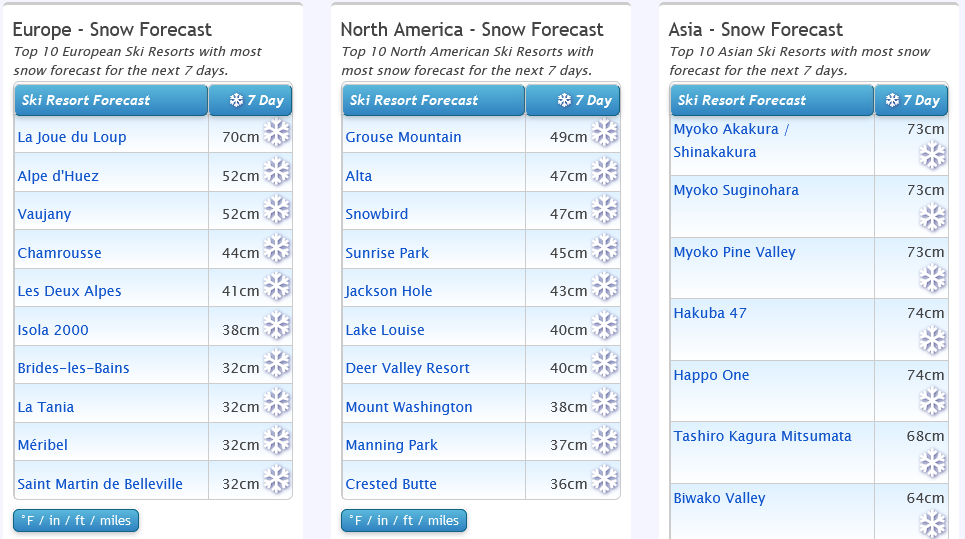 Snow in the forecast for Europe, America and Japan...
Re-publication :- our Snow Report Summary, being the text above this line, is free to re-publish, but must be clearly credited to www.J2ski.com with text including "J2Ski Snow Report" linked to this page - thank you.
World Overview
Europe
The final days of November saw some of the best snowfalls in Europe since the start of the month, giving a much-needed boost to base levels and refresh of already open terrain. There have been stormy conditions too, closing some high-altitude slopes at times, and very low temperatures, particularly up in Scandinavia.
Less welcome was the arrival of the new Omicron variant of the virus which continues to complicate things, with new rules for travel out of the UK, and in to Switzerland and France (we're not going to be specific here, as the rules are changing daily and depend where and when you're travelling from and to!).
The traditional seasonal issue - lack of adequate snow cover - was the only thing delaying a few centres from opening in Italy, but that now seems to have been overcome by the arrival of snow.
Against this backdrop more and more ski resorts have been opening and many more intend to do so this coming weekend. There's more snow falling too, so, pandemic-permitting, a much better picture than a year ago.
North America
It continues to be a less than perfect start to the 21-22 season in much of North America, but for many areas, things are now looking much better than seven days ago at least.
Around 100 ski areas have now opened across the continent, most opening in time for Thanksgiving weekend, although most with limited terrain because there wasn't much snow in November and it has been too warm for much snowmaking.
That said, it has been dumping in Alberta and Lake Louise and Sunshine ski areas near
Banff
in Canada have the most terrain open of any ski area in the world as we start December.
The resorts have also seen some of the heaviest snowfall of the past week, posting more than 40cm (20 inches) of fresh since Friday although unfortunately, that impacted three World Cup races scheduled over the weekend, the first in North America for two years due to the pandemic, with two races cancelled. The Men's Downhill that happened on Saturday was on a shortened course.
There's been snow in Eastern and Mid-western North America too, but warm sunny weather continues to badly impact ski areas further West in US states like California and Colorado with no immediate respite in the forecasts, unfortunately.
Europe
Austria
Austria remains in lockdown but the initial 20-day period is reaching its midway point with a decision expected in the next few days on whether it will end early, run to its expected December 12th end, or be extended.
In the meantime, some ski areas remain open for day-trippers, although with no overnight accommodation or restaurants open. Others say they'll open on schedule even whilst the country remains in lockdown.
And it has been snowing quite a lot too, with snowfall down to the valley floor and, after a brief sunny spell midweek, more snow has started falling.
France
Although restrictions have been tightened to now include mask-wearing on all lifts and to have your digital COVID passport (vaccinated, recovered or negative test) ready to flash as required, ski resorts are continuing to open in France at the time of writing, which of course wasn't happening this time last year.
Permission has also been granted for Brits to travel through Switzerland (
Geneva
Airport) and out again to access French ski slopes without them needing to self-isolate/take tests.
It has also been snowing, quite a lot in fact, with snow down to the valley floor across the French Alps.
Although half-a-dozen French resorts were open at the weekend, that dropped to three at the start of this week with several only open weekends. This coming weekend will see a bit of a jump to around 30 resorts open, including several deciding to open for a 'preview weekend' because of the snow.
Val Thorens currently has the most terrain open – 25km of runs or about or 4% of the 3 Valley's full size!
Lans en Vercors
opened early on Wednesday, December 1st saying it had had 80 cm of snowfall.
Italy
Mixed news from Italy as after the excitement of early-season starts at resorts like Cortina and
Madonna di Campiglio
in November, some resorts that had planned to open last weekend including
Bormio
and
Passo Tonale
, decided to postpone for a week until this weekend, blaming warm temperatures.
It has got colder and snowier since though and more resorts have been opening including
Livigno
and several more ski areas in the
Dolomiti Superski
region. Bormio says it will now open this coming weekend, with dozens of other Italian resorts.
Switzerland
Despite Switzerland having rising infection rates and making a ski holiday there at present all but impossible for Brits with the new 10-days-self-isolation-on-arrival rule, the country's ski season is beginning to gather pace as it did a year ago when it was the only major western European nation to open its ski slopes in November-December.
Conditions have been snowy over the past week, although sometimes driven in on storm force winds which closed several areas including
Laax
at the weekend.
Zermatt
-Cervinia usually has the most terrain open in Europe at this time of year but is running a bit behind at present despite opening the Gornergrat sector at the weekend opening up around 70km of runs, but it's been dropping back to 20km midweek. The open areas around St Moritz have therefore kept ahead of it. About a dozen Swiss areas are currently open but that number is expected to triple this weekend.
Scandinavia
It has been very cold with widespread snowfall in Scandinavia over the past seven days, with temperatures dipping as low as -25 Celsius in northerly latitudes.
More resorts have been opening and the region's largest, Åre, is set to join them this weekend with six trails open initially. Other leading ski areas like
Hemsedal
in Norway also plan to open, just as the most northerly ski centres in Lapland enter a period when the sun does not rise again until January.
Pyrenees
It's a very good start to the winter in the Pyrenees with the region's largest ski area, Andorra's
Grandvalira
, opening for the season a few days earlier than expected on Tuesday and one of Spain's leading ski areas posting the most terrain open anywhere in Europe at present. Baqueira Beret says it has over 70km (43 miles) of runs open already, believed to be the most on the continent and second in the world this week, behind Canada's Lake Louise.
A number of other ski areas in the region are also open including
Masella
and down on the Mediterranean coast, Europe's most southerly resort,
Sierra Nevada
. Most other ski areas in the region are expected to open this coming weekend, including
Formigal
. The weather in the final weeks of November has been cold and snowy with some centres reporting up to 60cm (two feet) of snowfall on higher slopes.
Scotland
The weather has turned much more wintery in Scotland at last after a largely warm autumn with heavy hill snow at the end of last week, cold sub-zero temps down to the valley over the weekend and temperatures staying cold with snow showers over the past few days since.
Glencoe
has also been running its all-weather snowmaking system and aims to open for the season on
Eastern Europe
It has turned much colder and snowier in Eastern Europe with hopefully good timing ahead of the planned season start dates for resorts there which for most are in mid-December.
Serbia's leading ski area
Kopaonik
posted pictures of its first good snowfall and Slovakia's biggest, Jasna, said it had had 16cm (6") of snowfall up top. Equally importantly it has been cold enough for snowmaking systems to fire up across the region including in Bulgaria.
North America

Canada
Ski areas in Western Canada have been posting both the most terrain open of any ski areas anywhere in the world at present and the most snowfall in the past week.
There is though, a bit of feast and famine as whilst the top three areas in the world for terrain open are on the inland eastern side of BC or Western Alberta, further east across Canada and further West towards the Pacific Coast it has so far been a different story with resorts battling to open much terrain.
Starting with the good areas though ski areas around Banff including Sunshine and Lake Louise, as well as
Sun Peaks
in Eastern BC are posting 70-90km of terrain open already, the most in the world, and up to 60cm (2 feet) more snow this week.
By contrast, Whistler, the continent's biggest ski area, is open, but with just a few kilometres of runs skiable. Similarly in Quebec, things have improved with Tremblant and other areas opening after some natural snowfall and temperatures finally dipping enough for snowmaking to start. Again, the terrain open so far is very limited and only a handful of areas have opened in the East so far. More hope to join them this weekend though.
USA
Most of America's best-known ski areas are open among around 100 centres coast to coast – more than any other country at present.
But so far there's nowhere really reporting great conditions or much snow. The biggest area open, 40km, is at
Mammoth Mountain
in California where it has been another warm, dry and sunny week and most areas still cannot open as a result.
The deepest reported snowpack, at
Vail
in Colorado, 53cm, is largely thanks to snowmaking efforts, although the Rockies did see more snowfall at the end of last week before the return of dry, sunny weather.
Lots of centres have opened in the past seven days on the East Coast as well as in the Midwest however where up to a foot (30cm) of fresh snow has fallen, by far the most of the autumn. Temperatures also dropped low enough for some consistent snowmaking, although there have been warm temperature spikes at times. But it appears to be an improving picture here, whilst the season start in the West remains somewhat stalled.