J2Ski Snow Report 1st July 2021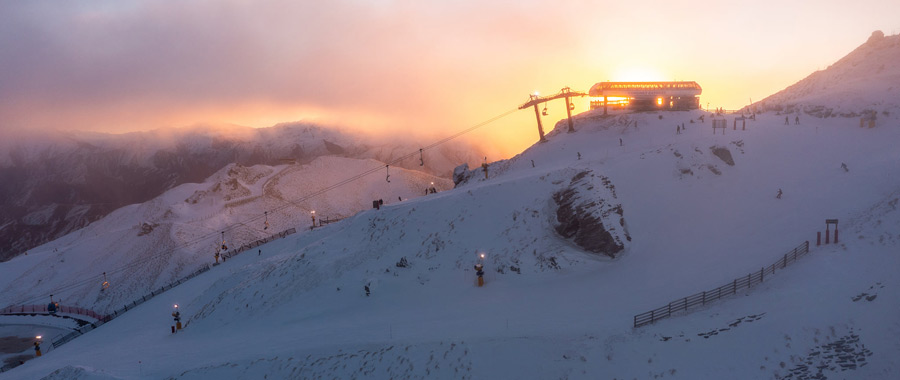 You can ski until 9pm at Coronet Peak, New Zealand, this weekend...
50 ski areas are open, on 6 continents...
The mountains are waiting for us... be patient, stay safe and follow your local advice and rules on travel.
The Snow Headlines - 1st July
- Some summer ski centres in Europe and US close earlier than planned due to heat.
- Southern Hemisphere 2021 ski season underway in Australia and New Zealand.
- Ski areas open on six continents.
- Probably no 4th of July resort openings in the US this year.
- Cross-border travel between Cervinia and
Zermatt
to access glacier resumes.
- Some resorts in New Zealand say they can't open as they can't find staff as border closed.
-
Whistler Blackcomb
glacier summer skiing cancelled for a second year.
- Lockdown in Australian cities hurts both Aussie and NZ ski areas.
At the start of July, about 50 ski areas are open, in a dozen or so countries, on six continents. That's fewer than usual for this time of year, but much better than 12 months ago. Hopefully, we'll have over 100 open by the end of the month, on four or five continents.
After all the complications of last winter in the northern hemisphere and the fact that most ski areas in the southern hemisphere were closed for the start of the 2020 winter there, this July is looking a lot more 'normal'.
Challenges remain, of course, and the current big headache for ski areas in Australia and New Zealand, besides not very much snow yet, is lockdowns in big Australian cities during the peak school holiday period, right now, leading to mass ski holiday cancellations.
That aside, the resorts we'd expect to be open in The Alps, Norway, North America and Japan are, pretty much, the ones that are open.
In the southern hemisphere it's uncertain as to what will happen, particularly in the Andes, although many resorts are open already, or about to open.

Snow inbound for Austria and Chile...
Re-publication :- our Snow Report Summary, being the text above this line, is free to re-publish, but must be clearly credited to www.J2ski.com with text including "J2Ski Snow Report" linked to this page - thank you.
The Alps
After lots of ski areas opened unexpectedly in late April, May and even June as lockdowns eased at the big ski nations in the Alps, we're pretty much back to the normal suspects open for July.
Austria
In Austria, there's the
Hintertux
,
Kitzsteinhorn
and Molltal glaciers for example - all due to be open all month except the Kitzsteinhorn above
Kaprun
which currently is set to close on the last Sunday of the month.
Hintertux is still reporting a 4m+ base, very good for the start of July and likely to see it through the summer, fingers crossed.
France
In France the three ski areas of Les 2 Alpes, Val d'Isere and
Tignes
are all open, again as they normally would be and again two staying open all month, all being well although Val d'Isere is due to close on the second Sunday of the month.
Italy and Switzerland
Italy's Cervinia and Switzerland's Zermatt share access to the glacier slopes of the Klein Matterhorn and fortunately cross-border leisure travel was allowed to resume last month. A second Swiss option, Zermatt's neighbour
Saas-Fee
, is due to open for its nine-month 21-22 ski season on 16th July.
A second Italian option, Passo Stelvio, should open soon, pending permission from
Rome
to re-open following maintenance.
As to the weather, well Alpine nations saw temperatures reach 30C in some cases down in cities and warm enough higher up but most of the glacier areas still report fairly healthy bases – as mentioned up to 4 metres deep on some Austrian slopes.
Northern Europe
Two of Norway's three summer glacier areas, Fonna and Galdhoppigen, remain open, with a few kilometres of slopes open each. Fonna reports a 3-4 metre base still too and both should stay open all month. The third, Stryn, closed early after only a three-week 2021 ski season blaming wind and rain for destroying the snowpack.
North America
The ski areas in California and Colorado that occasionally stay open into July haven't made it this year and so far there's no sign of anywhere re-opening, as they sometimes do, for special 4th of July skiing and boarding.
Something might still be announced at short notice but as the main weather news is historic high temperatures in the Pacific Northwest and wider region, it seems very unlikely.
The continent's one summer ski only centre, Beartooth Basin on the Montana/Wyoming state line also closed mid-June after only a 3 week season in 2021, so that leaves us with just
Timberline
ski area open through July, all being well, with the Palmer permanent snowfield on Mt Hood in Oregon.
There are a few other options, but they're mostly for private use. The Woodward freestyle training camp in Colorado, for example, has access to a terrain park created from what snow remains at
Copper Mountain
.
Whistler Blackcomb's glacier is closed for a second summer, this time due to a lockdown in the region caused by a surge of the Brazilian variant of the virus. So there's nowhere currently open in Canada.
Asia
July marks the end of the three-month season at Japan's sole summer ski area, Gassan, the only ski area open in the country with snow (there are a couple of long dry slopes at resorts like
Kagura
and
Nozawa Onsen
).
Gassan started off with the snow lying 10 metres deep when it opened in early April for its 2021 run, and that's now down to just a metre left on higher slopes with temperatures in the 20s Celsius. So the snow looks set to be gone within a week or two now.
Southern Hemisphere
The 2021 ski season is underway in the southern hemisphere and if not quite back to pre-pandemic normal, is so far looking a lot better than last year in terms of restrictions and closures.
Some centres even have slightly more snow than a year ago, although most are hoping for a lot more in July after a "challenging" start to winter in Australia, New Zealand and the South American Andes.
Australia
Australia's season has so far had a much more promising start than 2020. There were some decent snowstorms at the start of the month and although the cover is not yet great and rain spoilt cover about a week ago, it has snowed again since and more terrain is opening up. Indeed most resorts have more terrain open than they did to start July last year.
More importantly perhaps, so far all centres have been able to open. It's a nervous time though with local lockdowns in Australian cities. Many holiday bookings are reported to have been cancelled at ski resorts in both Australia and New Zealand during this peak school holiday period as a result.
Chile
June wasn't the best of months in the Andes in terms of both snowfall and the virus spreading again either, but after a nervous few weeks with lots of "get excited about the winter starting very soon!" messages from resorts but with no dates given and nowhere actually opening, the first areas in Chile opened in the final few days of June.
First up was Corralco on Monday, then
El Colorado
and
Valle Nevado
on Tuesday this week. Nevados de Chillan should open today (July 1st) and
La Parva
July 5th however
Portillo
doesn't plan to open until at least the 17th.
Argentina
For Argentina, the first 10 days of July looks set to see almost all of the country's ski areas open. There was also a moderate snowfall to end June bringing 20-40cm of cover to the Andes. Resorts that have confirmed an opening date include the world's most southerly major resort, Cerro castor down towards Tierra de Fuego from this Friday, 2nd July.
The continent's largest area, Catedral near
Bariloche
is reported to be targeting this Thursday, July 1st, but that's yet to be confirmed (with hours to go). If it does it would be the first in the country to open.
Another major resort, Las Lenas, which didn't open at all last winter says it will open July 9th as do Chapelco,
Cerro Bayo
and Caviahue, but la Hoya is also going with July 2nd.
All in all, it's now starting to look more like a 'normal' winter than 2020, hopefully, at least in terms of what is open, although of course pandemic operating restrictions remain in place and international borders also remain closed. This latter issue is a major factor for resorts like Portillo which will find it hard to break even with these restrictions in place.
New Zealand
It has been a very interesting start to the 2021 season in New Zealand too. Here a huge snowstorm at the end of May (as we reported in our report a month ago – and still the biggest event of the southern hemisphere's winter 2021 start!) left the snow lying over two metres deep on upper slopes at Mt Hutt.
This then set records for its opening weekend, on schedule, in the first half of June and remains by far the deepest snow stat of any southern hemisphere ski centre to date this winter. Since then though all of the country's other ski areas have struggled to open much terrain. Whilst Mt Hutt still has snow lying over two metres deep up high, other areas like
Cardrona
,
Treble Cone
and
Coronet Peak
all delayed opening then had just a few easy trails open initially with thin cover.
To add to the opening issues, some smaller centres, notably Ohau, say they can't get enough staff to open due to the country's border closures.
So it's a problematic start to the season but the weather has been improving and centres are continuing to open for the 2021 season and to open more terrain once they do. New Zealand also continues to have the big plus of almost no pandemic operating restrictions due to their successful suppression of the disease to date, but it's a nervous time with all the variant outbreaks in neighbouring Australia.
This is also impacting business badly for New Zealand ski areas which are reporting mass cancellations from Aussies who had booked to ski in New Zealand for the first time in two years but have been thwarted by the new local lockdowns.
Africa
There have been several snowstorms in Southern Africa, but there's still no sign of life at Tiffindell ski
area in South Africa which was closed last year due to pandemic restrictions.
Afriski, over the border in Lesotho, did open for 2021 last month and this winter (unlike last) South Africans can cross the border into the mountain kingdom to ski provided they're in possession of a recent negative result virus test.