J2Ski Snow Report 2nd April 2020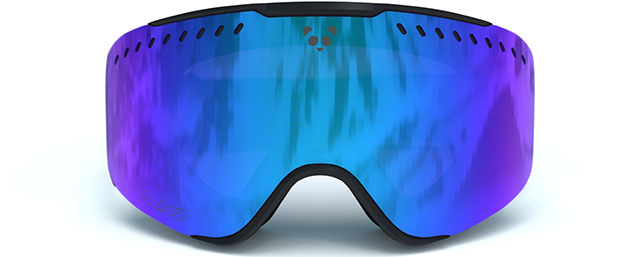 Maybe you can't go skiing, but you could win these! Win some Panda RS1 Goggles
A handful of ski areas soldier on...
Please follow your local authority's advice, stay safe and well, and look out for your neighbours! In the meantime, there is still snow in the mountains...
The Snow Headlines - 2nd April
- Deepest base at an open ski area passes 5-metre mark again.
- Fresh snowfall reported in Alps, Cascades, Dolomites, Pyrenees, Rockies and Tatra mountains, among others.
- Leading ski centres in Sweden due to start closing from next week.
- US resort crowd-funds enough money to keep grooming slopes for those who want to skin up.
- Ski centres still open in Japan and Iceland.
After the frantic round of sudden resort closures in the Alps and Pyrenees in mid-March, due to the coronavirus outbreak, and the more gradual closures of ski centres in Finland, Scotland and western North America, the past seven days have not seen many big changes in terms of what's open and what's not - ski areas in Iceland, Japan and Sweden remain open.
But that's changing in Sweden; Skistar, which operates Scandinavia's biggest resort, Are, along with Salen and
Vemdalen
, say they'll be closing their Swedish resorts from next Monday in response to tightened rules in the past few days from the Swedish government. It's not yet clear if all Swedish ski areas will follow suit, but that has been the pattern in other ski nations to date.
We have though, entered April and whilst some ski areas in Japan and Sweden haven't closed yet because of the virus pandemic, some are closing because it's the usual end of their seasons. Other, bigger, higher resorts in Japan are open through to May though, pandemic permitting.
Both countries did see fresh snow to end March. Sweden saw some of the biggest and best snowfalls of the season to date - pushing one area up to a 5 metre plus base, another to issue a rare powder alarm for a 20cm+ accumulation. Japanese areas too saw one of their snowiest weekends of the season to date, unusually late in the season (it was the closing weekend for many), although it has warmed up since.
Across the closed majority of slopes in Europe and North America, there has been fresh snow for many too, causing anguish for some, nostalgia and optimism for others, depending on your point of view.
The main issue in many ski countries now is persuading backcountry skiers and ski-tourers to stay home too. Some countries are doing it by tightening regulations, others just by public shaming of those who do still hike into the mountains, potentially requiring medical help if things go wrong when medical services are stretched to the limit by the pandemic.
That hasn't stopped
Snow King
ski area in Wyoming raising $6,000 in a crowdfunding exercise to fund slope grooming, even though its lifts are closed, so that people can skin up the slopes to ski down.
When might it all end? For most ski nations the worst appears to be still ahead of us although equally most hope things will be improving by the end of April. Several areas that typically open in May, June or July due to glaciers or some other late-season snow cover, are beginning to take bookings for skiing from June so there's optimism, but no certainty, that some slopes might re-open by the end of spring.

It's still snowing, somewhere...
Re-publication :- our Snow Report Summary, being the text above this line, is free to re-publish, but must be clearly credited to www.J2ski.com with text including "J2Ski Snow Report" linked to this page - thank you.
EUROPEAN ALPS
Austria
Austria is on lockdown and the lockdown is tightest on some ski areas in the Tirol including St Anton,
Ischgl
and Solden, where residents require government papers to be able to leave, as they have more cases of the virus than other areas.
It has been snowing though, down to low levels, but warming up again now.
Many of Austria's ski areas would have closed for the season, if it was a normal season, at the weekend, or next weekend, in any case.
Several glacier areas, including the
Hintertux
and Molltal glacier, have indicated they'll re-open their slopes in late spring if (and it's a big if) such a move is deemed safe by then. In the meantime, the next national review of the lockdown policy is due on April 13th in Austria.
France
French ski slopes remain closed with the country in full lockdown and ski touring and backcountry skiing and boarding banned.
As with the rest of the Alps and the Pyrenees, the country enjoyed a snowy start to the week with resort staff posting pictures of fresh snow from their windows. The country's three glacier summer ski areas have announced June opening dates for 2020. They say on their web pages that lack of snow might delay opening but don't mention that the virus pandemic might do that too...
Italy
There's little new to report from Italian ski areas, although here too some fresh snowfall has been reported in both the Alps and the Dolomites in the past few days. Several areas may be able to open later in the spring, or the summer if deemed safe to do so. They'd include summer ski areas Passo Stelvio and Cervinia.
Switzerland
Swiss ski centres including
Saas-Fee
excitedly posted pictures and video of fresh snowfall at the weekend, even with the country in lockdown and no one able to do much more than head out into the garden (if they have one) and build a snowman.
Since then the weather has turned sunny and that looks to be how it will stay for the coming week. No one knows when the lockdown will be able to end but when it does one can presume resorts like
Zermatt
may be among the first to re-open their slopes – endeavouring as it does to open them every day of the year, weather permitting, in normal times.
Scandinavia
Although it's an ever-changing picture, ski areas in Sweden were still open at the time of writing as the government there continues to take a different approach to most of the rest of Europe and goes for herd-immunity. However the government has now tightened the rules and the first Swedish area, including the biggest Are and Salen, as mentioned in the introduction, will be closing after this coming weekend, four weeks earlier than planned. It's not yet clear if all Swedish areas will follow suit.
Against that, the good news for skiing and snowboarding Swedes is that the past week has been a snowy one with one of the few 'powder alarms' that can still be issued reported by the ski area of
Storlien
on Monday after it got 20cm of snowfall in the previous 24hours.
Riksgransen, up in the north, has had a week of nearly non-stop snow and now has a base of 5.4 metres, the deepest in the world of an open resort and one of the few ski areas anywhere to go past the 5-metre base depth mark this season, even including areas that have now closed.
Pyrenees
Ski areas in the Pyrenees, like almost all of the rest of Europe's ski areas, remain in lockdown with Northeastern Spain where the mountains are located hit particularly hard by the virus.
March was a snowy month there though, and colder at times than the first two months of the year had been. The snow kept falling right through to the start of this week although it has turned sunnier in most parts of the Pyrenees now as we start April.
Scotland
Scottish slopes remain closed too. It is a shame as conditions continue to be good for spring skiing at the five centres, which isn't always the case, with the past week providing mostly benign conditions (again not often the norm in the Highlands) and only a slow rate of thaw, with a few fresh snow top-ups.
Eastern Europe
It is surprisingly snowy in the Balkans considering is the start of April. In fact, March was generally colder and snowier than much of the winter and it's been a snowy start to the week (and end of March). More snowfall with sub-zero temps are forecast for the next few days.
Of course, all ski areas are closed.
North America
Canada
Canada has been mostly cold and quite often snowy from east to west coasts over the past week. All ski areas there have now been closed for nearly a fortnight (most longer than that), but several that stay open to late May in normal years – including sunshine near
Banff
and Whistler in BC, are still holding out a hope that they may be allowed to operate again before the end of spring, if it is deemed safe to do so. Many other Canadian resorts would otherwise be entering their last week or two of operations in a normal season anyway. The forecast is for more snow in the West over the rest of this week getting warmer in the East.
USA
The last ski area open in North America still operating lifts for the 2019-20 season stopped doing so on Tuesday last week.
Record numbers of people have been hiking up for backcountry skiing, with more than 400 people reported at one popular spot in New Hampshire at the weekend, so there's now a concerted effort to encourage people to stop doing that and stay home.
Some states, including Colorado, have effectively banned it, elsewhere there's more of a public shaming exercise going on of those who continue to go backcountry skiing.
In contrast, though, many ski areas have been donating ski goggles and unused medical supplies to hospitals in the fight against the pandemic there.