J2Ski Snow Report 12th December 2019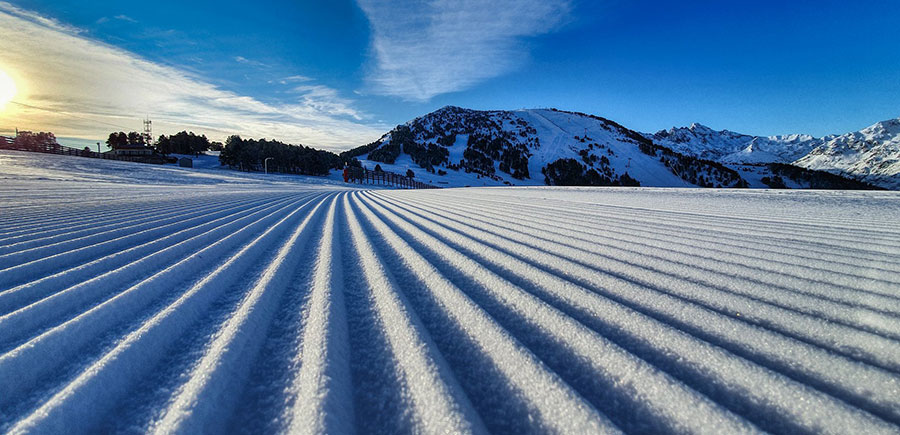 Corduroy at Ax 3 Domaines, French Pyrenees, this week... picture (c) Ax Tourist Office
More snow this week, and freshies for the weekend?
The Snow Headlines - 12th December
- Deepest base in North America hits 2-metre (6 feet) mark, in California.
- Fresh snowfall again in Europe.
- Up to 70cm of snow in 24 Hours in the Alps.
-
Revelstoke
opens biggest vertical in North America for first time this season.
- Austria's biggest ski area begins operating for 19-20.
- Japan's delayed season starts after
Niseko
gets a metre of snow.
- Scotland's ski season declared underway.
- Up to 30cm of snow in the Pyrenees.
- Ski areas open for the season across Eastern Europe.
- More heavy snow forecast for Alps this weekend.
It's returned to winter in the Alps this week after a period of mixed and dry weather. There's good cover from the November snowstorms at most areas above about 1500-1600 metres altitude. Lower slopes have had thin to no cover, however, so a bit more winter was needed! This week's snowstorms, set to intensify at the weekend, have improved things a good deal.
Elsewhere the Dolomites continue to look good although they've missed out on some of the recent snow. The Pyrenees have had more fresh snow, and it has kept snowing in Scandinavia, particularly in Western Norway which reported some of the biggest falls of the past week.
Scotland's season is underway, in a very limited respect, at Cairngorm, but it is cold again there now with natural snowfall building new fresh cover. Eastern European ski areas have also got their seasons started.
In North America, there have been good snowfalls over the past few days across most of the continent with resorts in Alberta, BC, Colorado, California and Wyoming amongst those reporting 30cm+ (1 foot) fresh snow in 24 hours. There have been some good snowfalls on the East Coast too. It is only really in the northwest of the continent, including
Whistler Blackcomb
, where the snow has been in short supply. A bit inland though there's been enough snowfall for Revelstoke to open top-to-bottom skiing on the continent's biggest vertical.
A quick mention too for Japan, where ski areas had not been able to open as planned in the latter half of November; things have taken at least a partial upturn with Niseko reporting a 1-metre dump over the past week and normal powder service resumed.
In the Alpine Forecast

Snow in the forecast for France this weekend...
Very much a mixed outlook; with heavy snow expected this weekend for the western and northern Alps, less in the East, after which temperatures look like rising above average for a few days before more unsettled weather follows.
Re-publication :- our Snow Report Summary, being the text above this line, is free to re-publish, but must be clearly credited to www.J2ski.com with text including "J2Ski Snow Report" linked to this page - thank you.
EUROPEAN ALPS
Austria
The new snowfall has been good news for Austrian ski areas where recent snowfall had melted from at least the bottom half of the slopes. Fresh snow has fallen heavily down to the valley floors;
Saalbach Hinterglemm
-Leogang-Zell am See, the country's new largest ski region, opened at the weekend but had a thin, hard-packed cover on lower runs. That's now all refreshed and the area has announced all sector connections will be open from the coming weekend. The biggest snowfall reported so far was 50cm at
Lech
in the
Arlberg
region on Monday/Tuesday but there's more on the way.
France
It's looking like a really good start to the main season in almost all French resorts following more snowfall to start this week, building on bases that were already over two metres from November snowfalls at many areas.
The country's big purpose-built altitude resorts are benefiting the most from all the snow as new snowfall has gone down to the valley floors here too making the traditional villages at lower elevations look wintry. The biggest accumulations at the start of the week were 30-45cm at resorts including Bonneville and
Chamonix
.
There's more snow on the way and the FIS announced they were modifying (but not cancelling) the weekend races in Val d'Isere because of expected snowfall.
Italy
Italy is still reporting the deepest snow in the world on the
Presena
glacier by
Passo Tonale
at four metres but the snowstorms earlier this week seem to have largely gone elsewhere. That looks like it will change this coming weekend though with J2Ski's preferred forecasting models predicting the possibility of metre plus accumulations in the Western Italian Alps.
Switzerland
Swiss ski areas scored the biggest snow accumulations of the Monday/Tuesday snowfalls at the start of this week with the slopes around
Gstaad
reported receiving 70cm of snowfall in 24 hours. Most of the other ski areas in the top 10 for snowfall by Tuesday morning were also Swiss.
Verbier
reported 55cm and now has more than 100km of trails open and
Zermatt
continues to lead Europe with around 240km of runs open shared with Cervinia. Swiss slopes should get more heavy snowfall this weekend too.
Scandinavia
It's been the snowiest week of the autumn so far by some distance in Scandinavia where
Voss
on the Norwegian Coast has reported 105cm (3.5 feet) of snowfall in the past seven days. Other ski areas in the region have reported heavy snow too, particularly in the West, with
Hemsedal
and
Trysil
both reporting 30cm of snowfall in 24 hours to Wednesday morning.
Most of the region's centres are now open and those already open are opening more terrain.
Pyrenees
There's not been so much fresh snow in the Pyrenees but there has been some, particularly on the Spanish side of the mountains. Although bases are not huge in Andorra, there is a lot of terrain open at the biggest area,
Grandvalira
, with over 100km of slopes also reported open at Baqueira Beret just over the border.
Scotland
We've seen almost the full range of Scottish weather over the past 7 days – temperatures soaring to double digits above freezing, torrential rain and gale-force winds at various times over the past week. But the good news is that, since Sunday, temperatures have been dipping towards zero and there's been quite a lot of natural snowfall. All-weather snow-making systems hopefully mean that one or more areas will be able to open some terrain very soon – as currently, the forecast is for it to stay cold.
Cairngorm did declare it was 'open' on Saturday but at that point, there was just a short stretch of machine-made snow which had survived the thaw. It has since been closed by blizzards Tuesday and Wednesday this week but has posted images of snow accumulating.
Eastern Europe
The season got started at ski areas across Eastern Europe at the weekend with resorts in Bulgaria, the Czech and Slovak Republics, Poland and Slovenia amongst those starting their seasons.
Bansko
in Bulgaria, which opens fully for the season next weekend, decided to open a week early last weekend. Most areas have 40-60cm lying on their upper slopes but not much down at resort level at yet, each with just a handful of trails open for keen early visitors.
North America
Canada
More Canadian ski areas have been opening in BC and Alberta on the Western side of the country and there have been some big snowfalls in Eastern BC in particular with
Fernie
getting more than 50cm of snow in just a couple of days. Revelstoke reported more than 70cm in the past week and has opened it's full 1700m+ vertical, the biggest in North America.
The second biggest at Whistler is currently far from opening though it seems due to still warm, wet weather there and very thin cover on higher slopes. In Alberta,
Lake Louise
has reported more than a metre of snow in the past week, one of the biggest accumulations anywhere in the world. The forecast is for an improvement imminently though. In the East, a few dozen resorts in Ontario and Quebec have opened but there's so far just thin cover and limited terrain open.
USA
It's been snowy right across the US over the past few days with dozens of top-name resorts in the West posting 20-40cm accumulations on Sunday/Monday, following more big falls in California at the end of last week.
It's also been quite snowy and very cold in the North East and resorts in Vermont are in full winter mode with fresh snow here too. The roll call of big dump resorts to start the week included
Alta
, Deer Valley and
Park City
in Utah, Aspen,
Breckenridge
and
Winter Park
in Colorado and Jackson Hole in Wyoming.
Several resorts report more than 2,000 acres of terrain now open including Aspen and Mammoth. The only part of the US that's not yet getting its normal snow quota remains the northwest where it has been a bit too wet rather than white in what is statistically the world's snowiest resort, Mt Baker in Washington State. More snow is forecast across the country, including there though, so finger crossed things improve.
Thanks for reading... until next week...