J2Ski Snow Report 1st October 2019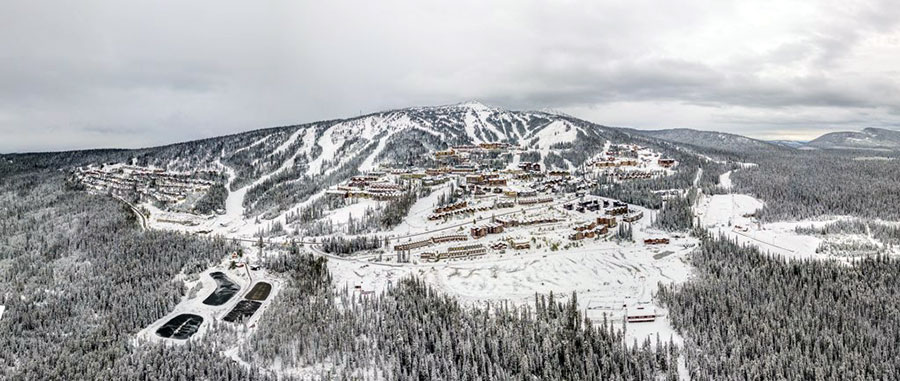 First snows for Big White, BC, Canada, this week...
This is the last of this summer's monthly snow reports... which can only mean one thing; winter's coming!
The first J2Ski Weekly Snow Report of the new season will be posted next Thursday!
So get your Snow Mail preferences up to date, and please do forward this to every skier you know!
The Snow Headlines - 1st October
- More than a dozen glacier areas already open in the Alps.
- Fresh snowfalls in the Alps in September.
- Austria leads with more than half the northern hemisphere's open ski areas.
- Over 4 Feet (1.2m) of snow in Montana to end September in 'unprecedented' storm.
-
Tignes
delays autumn opening.
- First non-glacier ski areas opening for the season in October thanks to snow farming.
- Southern hemisphere's 2019 season into final weeks.
Excitement has been building over the past few weeks in ski areas across the Northern Hemisphere. The first snowfalls (and in some cases the second and third snowfalls too) have arrived in north and western North America as well as in the Alps, Dolomites, Pyrenees, Eastern Europe's Tatra Mountains and even down at Europe's most southerly major ski area,
Sierra Nevada
in Spain.
A dozen glacier ski areas are open in the Alps and Scandinavia with as many again set to join them in the next few weeks, including, probably, the first in the US and the first non-glacier openings in Europe, thanks to snow farming - re-using snow stockpiled through the summer from last season.
There is nowhere open in North America just yet, and no fixed dates, but there will be a battle to be first over the next few weeks with at least a dozen areas hoping to take the title.
A huge 'winter' storm in the northwest of the country to end September, bringing up to four feet (1.2 metres) of snow and snowmaking cannons firing up on higher slopes in states like Colorado, has helped raise anticipation levels.
The 2019 ski season is all but over in the Andes, Australia and New Zealand with around 80% of the ski areas south of the equator now closed for the winter. Most of the dozen or so that have stayed open in to the start of October (springtime there) will call time on their seasons after the first, or at the latest the second Sunday of this month. However, it was still snowing in New Zealand in the final days of September.
In the Alpine Forecast
The next couple of days will be relatively mild before temperatures take a distinct dip to be noticeably below (seasonal) averages by the end of the week.
And, yes, there'll be snow; with some decent falls expected to mid-mountain by next weekend across a wide area of the Alps.
Not a bad start to October!

Some decent snowfall expected tomorrow!
.
Re-publication :- our Snow Report Summary, being the text above this line, is free to re-publish, but must be clearly credited to www.J2ski.com with text including "J2Ski Snow Report" linked to this page - thank you.
EUROPEAN ALPS
Austria
As usual for this time of year, Austria is dominating the list of currently open areas for early autumn with seven glaciers already offering snow sports (although the Dachstein currently only cross country skiing) – that's more than half of all the areas open.
There were some good snowfalls in mid-September with some areas getting up to 50cm of snowfall, and the snowline dropping as low as 1500 metres, but not a lot else the rest of the month, just a few 5-10cm accumulations. Snow depths are quite marginal with nowhere reporting more than a 59cm snow depth at the start of October and most areas with less than 5km of runs open at this early stage, although year-round
Hintertux
does have 20km of runs open they say.
The other centres open are
Kaunertal
, Molltal,
Pitztal
, The
Stubai
and Solden – which will stage the first Alpine skiing World cup races of 2019-20 at the end of this month. The
Kitzsteinhorn
plans to open early October. Most of these areas will be staging 'Oktoberfest' style 'Ski Openings' over the next few weeks with several unveiling their new terrain park setups for 19-20 too.
Kitzbuhel is scheduled to open later this month thanks to saving snow from last season and spreading it back out on a few high slopes in late October. This is usually quite a media circus event and kicks off a 200++ day season there through to the start of May. The longest in the Alps for a non-glacier resort.
France
Tignes, unfortunately, decided it had to postpone its planned open in the last Saturday of September, for the second year in a row, due to inadequate snow cover. So we're now waiting for a good dump there so it can open.
Ironically the day after the announcement there was the first good snowfall of the autumn there, but not enough to allow opening.
Les 2 Alpes is aiming to open its glacier slopes for its annual autumn snow festival over 9 days at the end of the month, from the final weekend of October to the first of November inclusive. However, it remains to be seen whether there'll be enough snow on the glacier, which was forced to close three weeks earlier than planned for summer skiing in August after the snow thawed away, and not a lot of snow has fallen there since. The event has had to be cancelled several times in recent years for the not-enough-snow-on-the-glacier reason and this year resort managers are hyping up the non-ski mountain sports aspect of the festival and are stressing it will go ahead even if the ski slopes can't open.
Italy
There are two ski areas currently open in Italy, both with about 5km of runs skiable. Passo Stelvio has been open since May and this is its last month of its unusual summer-only season.
Val Senales
opened last month. Both benefited from a big mid-September snowfall, with Stelvio reporting 55cm of snow which really improved its diminished cover after the summer heat.
A third Italian area, the slopes above Cervinia, are due to open from the final weekend of this month.
Switzerland
Two Swiss areas that have been open all summer, Saas Fee and
Zermatt
(open year-round), will continue operations through October, with some fresh snow on their bases over the past few weeks. Both have around 15km of slopes open plus terrain parks.
At least three more Swiss areas should open through the month though with
Engelberg
aiming for the 12th (having postponed from the initially intended 5th), the
Diavolezza
Glacier, one of the three St Moritz ski areas, the 19th and
Laax
the 26th.
Scandinavia
There have been some significant September snowfalls reported in Norway, Sweden and Finland over the latter half of last month but as we enter October only one ski area is open, the Galdhopiggen glacier ski area on Northern Europe's highest peak in Norway.
This is open from spring to late autumn each year but had to close unexpectedly from late July to early September as it was too warm. However, a 40cm snowfall at the start of last month allowed it to re-open and thankfully it has had more snowfall since.
The only other area expected to open in the region in October will be
Ruka
, up in Lapland, which stores huge piles of snow from the previous winter in a snow-farming operation and then spreads it back out on the slopes in early Autumn. This year's opening date, with three white slopes operating against the autumnal landscape, will be Friday, 4th October, starting a seven-month season through to next May.
More Finnish ski areas;
Levi
and Iso Syote are due to open later in the month.
The Rest of Europe
Nowhere else is expected to open in October although some areas that can open quickly and have staff on hand might do so if there's a heavy snowstorm. Last year an area in the Pyrenees opened after a huge late-October snowstorm and going back further
The Lecht
ski area in Scotland has previously opened for Halloween.
North America
October sees the annual battle to be first to open for the new ski season at ski resorts in the US.
Exactly when the first will open is often determined by snow-making operations once temperatures dip low enough for the snow cannons to work; occasionally there's a big early autumn dump of natural snow too and that's been the case this year with a big snowfall in the northwest of the continent, albeit 'heavy wet' snow, to end September.
This year there's the added dimension of the battle between the two giant lift-pass groups;
Vail
Resorts with the 'Epic Pass', and the Alterra group with their Ikon Pass, to offer the longest season as well as the most resorts.
Vail has let it be known that they're aiming for an early October opening at
Keystone
in Colorado, one of the twin highest resorts in the world.
Arapahoe Basin
, another high Colorado area which has often been first to open, is now part of the Ikon pass and also in the mix.
Last year a third Colorado area,
Wolf Creek
beat both and a fourth, Loveland is also a contender. Several ski areas in New England could also get there, including
Killington
, Vermont, should they get good snow-making weather. It, Wildcat in New Hampshire and
Sunday River
in Maine are often also October openers.
There are other possibilities in California and the permanent snowfield above
Timberline
Lodge on Mt Hood in Oregon which only ended its 2018-19 season at the end of October usually re-opens in October too.
It's all down to the weather, and particularly the temperature, really, but it's quite likely there'll be around ten areas open in the US by the end of the month, although if it's a warm October there could be none!
There are not usually any areas open in Canada until the start of November when areas like Norquay,
Nakiska
and Sunshine usually open in the first few days of the month. Very occasionally if it's a particularly snowy Autumn, some of these do open a few days earlier at the very end of October.
Southern Hemisphere
Australia
Ski areas in Australia reported multiple heavy snowfalls right through the winter and in some cases building bases of more than two metres, so in most places a good winter here.
Perisher will stay open to mid-October, and having opened a fortnight early at the end of June, it's declaring this their longest season 'in memory'.
New Zealand
In New Zealand, the snow arrived late after a warm start to winter but the country ended up with the deepest bases in the southern hemisphere hitting three metres (ten feet) at some areas, albeit with a lot of stormy weather too.
Mt Ruapehu's
Turoa
and
Whakapapa
ski areas are usually the last to close in the country (and the entire southern hemisphere) by the latter half of October and 2019 looks like it will be the same again with some of the deepest snow south of the equator there at the start of this month – more than 2.6 metres up top and fresh snow falling still at the end of September (they reported 50cm in the final week of last month).
Chile
All the main ski areas have now closed for the 2019 season in Chile, reported to be one of the worst ever for natural snowfall at most.
However Nevados de Chillan in the south, the last to close on the final Sunday of September, reported a better than average winter for snow in the south of the country.
Argentina
In common with Chile most ski areas in Argentina are now closed but Catedral, the continent's largest ski area in terms of uplift, says it will be open to Sunday, October 13th.
And if you got this far... thanks for reading; here comes winter!