J2Ski Snow Report 4th January 2017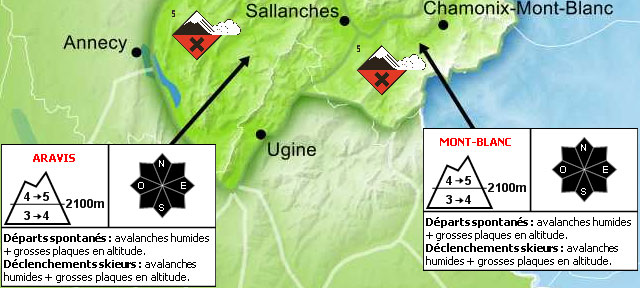 Avalanche Risk is Extreme in much of The Alps... graphic from the Meteo France Avalanche Bulletin
The biggest storm in many years brings snow and disruption to The Alps.
So all of us at J2Ski wish you a Happy New Year, but most of all a safe one!
This Week's Snow Headlines
- Many ski areas in the Alps closed fully or partially on 3rd and 4th January by huge storm.
- Deepest snow base in Europe approaches the 5 metre mark, more resorts pass 4 metres.
- Up to 1.3m of fresh snow reported in the past 7 days in the Pyrenees.
- Comparatively calm conditions in North America; very low temps in the East, more snow still needed in the West.
- All five Scottish ski centres re-open for limited snowsports.
It's odd to be writing the first snow round up of 2018 as a massive storm hits the Alps. Over the many years J2ski have been producing these reports, we can't recall a 48 hour period like this over such a wide area.
The storm may bring huge snowfalls (on top of already huge snowfalls in the past week) but wild temperature swings have also brought some torrential rain and winds gusting up to 200kph (125 mph)! The result is that it's not just dangerous on the slopes with an unstable snowpack, but in resort there is danger from snow falling from rooves - and many resorts are urging skiers to stay indoors today.
Prior to the storm's arrival there had already been three major snow storms since Christmas bringing up to a cumulative 1.8m (six feet) of snow to ski resorts in the Alps.
Away from the Alps, the weather is a little less dramatic. Scottish centres have managed to re-open some terrain, Scandinavian ski areas are mostly in good shape and there's been a lot of fresh powder in the West. The Pyrenees are also looking good. Over the Atlantic the biggest snow storms have been in New England with otherwise generally stable weather but more snow needed in California, Colorado and Utah.
In the Forecast
Once the storm clears, anything's going to seem calmer... but the eastern Alps look set for a week of milder weather, with occasional light snow and more mixed weather to the west... whilst the snow switches to the South of the Alpine Ridge (Alps and Dolomites) early next week.
AVALANCHE RISK
Fierce winds, huge snowfall, and heavy rain lower down, have pushed the avalanche risk to maximum over a wide area and this will continue for several days. Many resort staff will now be working in very dangerous conditions to make things safe as quickly as they can.
Please
be patient, exercise caution at all times, and keep to the (open) pistes until local advice says it's safe!

(yes, those numbers are the 48-hour expected snow totals!)
See when and where it's going to snow...
Re-publication :- our Snow Report Summary, being the text above this line, is free to re-publish, but must be clearly credited to www.J2ski.com with text including "J2Ski Snow Report" linked to this page - thank you.
EUROPEAN ALPS
Austria
Austrian ski resorts are in good shape, starting the new year as they finished the old one, with fresh snow. The only blip on the horizon is possible rain showers below 2000m during the current stormy weather extremes but any such showers should be short lived. The up-side of the storm is the snow expected to fall on Thursday and Friday which could add up to as much as 80cm more at some resorts although looks more likely to be 30-50cm at most. Thanks to all the recent snow more Austrian ski areas are passing the 2m (6 feet) and even 3m (10 feet) marks for snow depth. St. Anton now has 3.2m (Nearly 11 feet) lying on upper slopes and the Dachstein Glacier has reached 3.9m (13 feet) already.
France
France has seen the biggest snowfalls of the past week and its resorts have been facing the full brunt of the current storm, with most either fully or largely closed for skiing until Friday. In the past week snow totals had been as much as 175cm (at Alpe d'Huez) and some of the more optimistic snow forecasts are projecting possibly as much again, and then some, on high slopes from the storm. But there's also been rain below 2000m in the last 24 hours at some areas too and violent winds. A number of resorts now have bases of around three metres – 3.2m in the Grand Massif, 2.9m at La Plagne, 2.85m at La Clusaz and 2.8m at
Avoriaz
and snowfall since New Year's Day is up to 70cm at Bonneval.
Italy
Snow depths have hit 4m (13 feet) in Italy and 2m in the Dolomites – something that hasn't happened this early in the season (if at all) for at least four years. Campo Imperatore in the Abruzzo area is the centre that reports a 1-4m base whilst Sella Nevea up in the north east on the Slovenian border has hit 3m. The deepest base in the dolomites is at Canazei in the Fassa Valley which reports the snow lying 2.2m deep. Snowfall since New Year's Day has been a little less dramatic in Italy with the biggest fall – 35cm – reported at Sulda although most areas have had a maximum of 20cm of fresh snow. Italy may get some of the biggest snowfalls of the next few days – La Thuile is forecast to get around 90cm by the weekend.
Switzerland
Swiss resorts are seeing both the biggest snowfalls so far of 2018 and also some of the most extreme weather from the storm with the 4 Valleys entirely closed on Wednesday 3rd January, although expecting to have limited opening on 4th January when heavy snowfall is expected – there was some rain and sleet on Wednesday. Prior to the storm dumps up to 50cm of snow in 24 hours were already being reported at some Swiss areas. Three day totals are as high as 80cm and at some areas 7 day accumulations have reached more than 1.8m (six feet).
Engelberg
has 4.8m (16 feet) of snow lying on its upper runs now – the deepest still in Europe and probably the world. With another 40cm of snow forecast here in the next 36 hours it may be the first to reach 5m this season by the weekend.
Eastern Europe
Eastern Europe has so far missed out on the stormy weather, but also on most of the big snowfalls. There's been no new snow in 2018 so far in Bulgaria and base depths vary tremendously between areas with 20-35cm at
Pamporovo
but remarkably 20-160cm at
Bansko
they report. A great variation in Slovenia too from just 15-30cm at
Mariborsko Pohorje
up to 50-300m at Kanin-
Bovec
.
Scotland
Big improvements in conditions in Scotland with consistently low temperatures and the odd dusting of snow meaning all five highland areas have manged to scrape together enough snow to open a few runs once again. There's not a lot yet but temperatures seem to be staying low and there are occasional small snow showers so it all appears to be moving in the right direction.
Pyrenees
Quite a snowy week in the Pyrenees post-Christmas with
Cauterets
on the French side reporting the biggest total accumulation in the region at 1.3m in the past week. There's been less fresh snow on the Spanish side and in Andorra but base depths are largely good (125-180cm at Spain's leading Baqueira Beret for example) and most lifts and runs are operational and open.
Grandvalira
has 180 of its 210km of runs open and all 62 lifts operating. Its 60-90cm base should be boosted by a foot (30cm) of snow at the weekend.
Scandinavia
Most of the fresh snow in Scandinavia in the past few days has been in Western Norway where resorts like
Voss
and Roldal have had around 40cm of snow in the first 72 hours of 2018. It continues a trend which has seen them build bases to around 2.5m – 2.8m, the deepest in the region. Elsewhere bases are mostly in the 70-120cm bracket, which is good for January in Finland and Sweden.
North America
Canada
There's been little fresh snow in Canada over the past week and temperatures are low – as they should be- across much of the country. But most lifts are operating and most runs are open. Base depths are greatest – at the 2.7-3m mark (9-10) feet on the two coasts with Cypress Mountain in BC on the West and Massif du Sud in Quebec in the East posting the biggest numbers. What snow there has been in the last few days – 5-15cm – has been reported by areas in the East of the country.
USA
Little fresh snow in the US either and what snow there has been has followed the December model – mostly falling in the Northwest or on the East Coast,
Stowe
and Jay Peak in Vermont were amongst the areas posting 30cm (a foot) of snow in 24 hour on Tuesday-Wednesday this week. The country's deepest bases are in the far Northwest in Washington state, Montana and the surrounding area where depths have now reached a maximum of 3 metres (10 feet). The ski states of California, Colorado and Utah all remain fairly dry as they have been since November with thin cover and only limited terrain open and the light powder for which they're famous sadly lacking still. There's no real sign of any change on the horizon as yet either.