As confirmed by our own visitor stats, there's a growing interest in Canada from British skiers suffering from a lack of skiing this last winter and continuing questions over travel to European destinations.
The following Press Release is from Mabey Ski.
Canada interest spikes with skiers looking for a trip of a lifetime
Mabey Ski launches winter 2021/22 programme with unforgettable bucket list ski adventures in Canada & beyond
After successfully running a winter season with few restrictions, adventure ski specialist Mabey Ski (
www.mabeyski.com
) is excited to announce its 2021/22 bucket list adventures in Canada and beyond. British owned and operated Mabey Ski offers trips to skiers and snowboarders looking for a unique, once-in-a-lifetime ski adventure, after a winter without skiing.
With many skiers desperate to plan their trips for 2021/22 and budgets potentially higher than normal due to a winter of no skiing for Brits, Canada is being earmarked as a top destination for next winter. Research from the Mountain Trade Network* shows that Canada is currently the number one dream destination for British skiers, and enquiries and bookings for next winter are already looking promising.
Mabey Ski, specialises in winter experiences beyond the norm, offering bucket list trips in Canada, Japan, New Zealand, Norway, and the Italian Dolomites. Think never-been-skied mountain faces, larger-than-life local ski guides, mountaintop wine tasting, heli-skiing under the midnight sun, and backcountry clinics for skiers and snowboarders looking to escape the crowds for the first time.
NEW bucket list trips for Winter 2021-22 include the chance to ski first descents on the remote Baffin Island in the Canadian Arctic, heli-ski from your private catamaran whilst it cruises up the fjords of Bella Coola in British Columbia, and ski into a volcano's crater as part of a unique cultural trip to Japan.
"Last year we asked our community what was important to them, and spent the past season researching, creating, and testing new adventures that will not only excite advanced skiers looking for their next challenge, but also encourage intermediate skiers to try something new," says Mabey Ski founder, Nickie Mabey. "While a lucky few may have got a few turns in, most Brits missed out on the 2020/21 ski season due to the pandemic. After months of lockdown, it appears that British skiers are looking for more than just a 'typical' ski holiday – they want to escape the crowds, they're looking for unusual experiences and an adventure that will make them forget there was ever a toilet roll shortage."
She continues: "Whether it's unwinding in a mountainside hot spring, toasting a glass over a handmade 'snow bar' or fishing for Arctic char in a fjord lake, we know that the time guests spend off their skis is just as important as their time on them. That's why we're excited to launch our most unforgettable ski adventures yet. We spend time getting to know our guests to ensure each experience is tailored to them, whether they're joining a hosted trip or embarking on a new adventure designed specifically for them."
Picture courtesy of Bella Coola Heli Sports
Highlights of Mabey Ski Winter 2021/22 Winter Programme:
· First descent heli-skiing in the Canadian Arctic
· Catamaran-based heli-skiing in Bella Coola, Canada
· Skiing a Japanese volcano crater
· Introduction to ski touring – in the true Canadian backcountry
· Overnight remote basecamp adventure– the ultimate Canadian backcountry celebration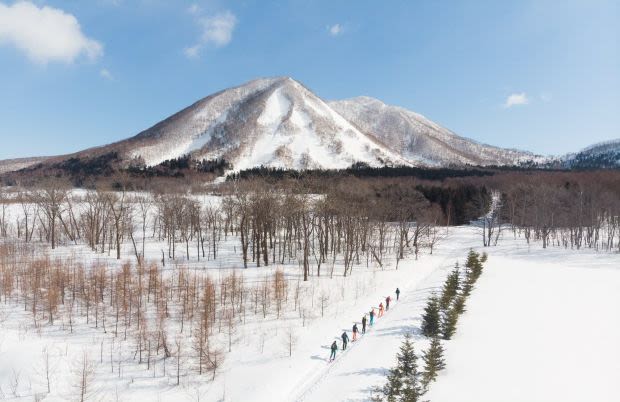 All of Mabey Ski's unforgettable ski adventures can be found on their newly launched website
www.mabeyski.com
.